From July 21–27, the Akwesasne Environment Division, in partnership with the Akwesasne Cultural Center for the Saint Regis Mohawk Tribe, coordinated an empowering gathering where Tribal basket makers, ash harvesters, and numerous Tribal land managers met with researchers representing federal and state agencies, universities, and conservation organizations to discuss an ongoing threat to a culturally important species known as black or brown ash.
The emerald ash borer (EAB) is a non-indigenous insect, native to Asia, that has been ravaging ash forests across turtle island since its first detection in the early 2000's. The alarming threat this insect has posed to ash forests is what brought this same group together 20 years ago—nearly to the day.
In that first gathering, attendees all engaged in similar conversations regarding the impending impact of EAB and the responses needed by the collective group. Then, eight years ago this group met again to focus more narrowly on the ideas of planning for EAB. Now, at this most recent gathering, Tribal Nations and First Nations reported out on actions being carried out in their communities to protect these relatives, the black or brown ash trees. Actions ranged from chemical treatments of highly valuable mother trees in their forests to the harvesting and long-term storage of splint material for basket makers, over the long term, to maintain their cultural lifeways in community centered basket making classes that engage youth and elders all the same.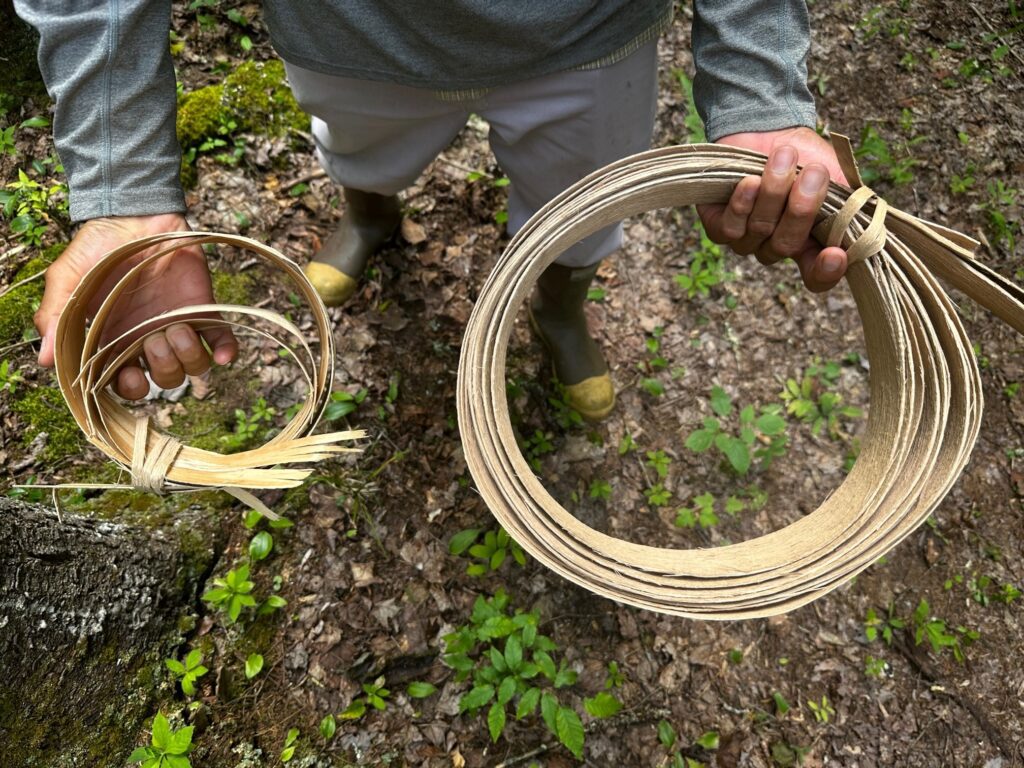 The stark difference between conversations then and those that were held in July of this year, was that participants shared stories of mourning—mourning of the millions of ash trees that have already succumbed to the impacts of the borer. But these stories of sorrow were still met with stories of inspiration and hope, and researchers from across the country shared their work in exploring new adaptive management strategies in these forests. Basket makers shared their craft by engaging attendees in some hands-on training in how to make these beautiful ash baskets, giving all the participants a new appreciation of the gifts this tree has to offer. There were even in-field site visits providing participants with on-the-ground visuals of actions being taken to respond to the emerald ash borer in the territory of the hosting nation, the Saint Regis Mohawk Tribe. The management approaches shared were holistic and consider the impacts of both the EAB and climate change, these Saint Regis Mohawk Tribe led projects are featured adaptation demonstrations for the Climate Change Response Framework, "Forest Stand Improvements in Ash" and "Black Ash Management." Some of the other site visits took participants out of the field and into the Tribal nursery to show how seed collection efforts and nursery programs could serve as strategies that provide hope that seven or more generations ahead of us might still see this tree on the landscape. Across the board for all that attended this gathering, it was clear that a common goal among all was preserving and caring for this species, this relative, black or brown ash.