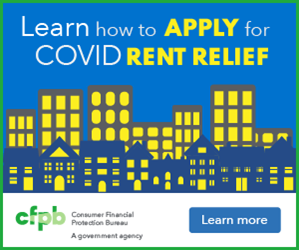 Rental assistance is available to help renters and landlords
If you're a renter having trouble paying your rent, utilities, or other housing costs – or if you're a landlord trying to stay afloat with tenants in this situation – help may be available. State and local programs are distributing billions of dollars in rental assistance to help renters stay housed during the pandemic. Visit the CFPB's Rental Assistance Finder to find out what this means for you and what you can do. The CFPB's site also includes resources to help renters and landlords understand other resources to help navigate various financial hardships related to the pandemic.
COVID-19 Assistance Available to Individuals
While the various coronavirus relief aid packages enacted by Congress each contain relief and recovery funds and programs designed to be administered by Tribal Nations, there are also a variety of assistance programs administered by the federal and state governments available to our citizens on an individual basis. We know that many USET SPF Member Tribal Nations seek to assist their citizens in identifying and navigating all available benefits and relief. With this in mind, USET SPF provides a summary (updated 10/19/21) of currently available COVID-19 relief and recovery resources for individuals and families. We will offer periodic updates to this list as further information becomes available.
General Resources

USET Tribal Epidemiology Center Recommendations for Tribal Consideration
USET/USET SPF COVID-19 Tip of the Day
Behavioral Health Resources
Resources for Tribal Administrators, Managers, and Teleworkers