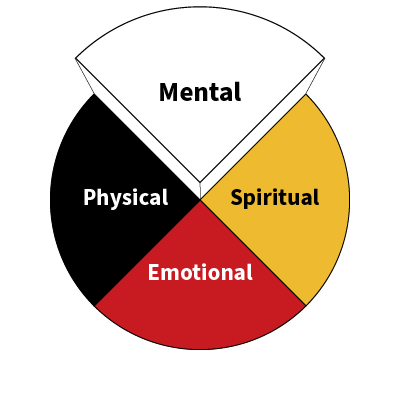 The white section and North direction of the medicine wheel represents Mental Health. We administer grant funding that allows Tribal communities to implement Elder-Youth Classes that teach their native language and traditions, which encourages community connectedness and the sharing and passing of traditional mindsets and teachings. We partner with Tribal Nations to administer Tribal Behavioral Health Needs Assessments that serve a variety of purposes, such as promoting mindful awareness, informing healthy decision-making, and addressing changing needs from a community and Native American-based approach.
Behavioral Health ECHO—Tribal Nation health directors, clinic staff, counselors, social workers, physicians, nurses, and anyone supporting Tribal Nation citizens through the behavioral health/mental health sector have an opportunity to gain continuing education credits while:

Gaining skills on strength-based approaches in partnership with Native People to enhance Native behavioral health,
Discussing ways that Native brilliance is demonstrated and supports behavioral health, and
Learning about examples of Native brilliance to share with behavioral health and other health care staff, as well as with the Tribal community.

Behavioral Health Needs Assessment—A three-part assessment strategically designed to assess the Tribal Nation's current behavioral health landscape and resources. Topics include new patient paperwork, wait times, referral process/follow-up, and availability of services along a continuum.

Part One: A needs assessment survey completed by clinical and non-clinical staff at the Tribal Nation's health clinic.
Part Two: Clinical staff, non-clinical staff, and outside partners are invited to participate in key informant interviews and focus groups on topics related to the questions asked in part one.
Part Three: A patient flow analysis document is completed by either the participating Tribal Nation or in person by USET staff. It walks through the entire process a patient would go through if they came into the clinic to receive Behavioral Health services.

Mental Health First Aid Training—Learn more about Mental Health First Aid Training at mentalhealthfirstaid.org.