---
The USET Economic Development Core Capacity was created in 2016 with the passing of the USET Comprehensive Economic Development Strategy (CEDS).  USET's Office of Economic Development assists member Tribal Nations in technical assistance purposing the growth of economic and community development efforts.
To see current activities or access more information on Office of Economic Development programs, please click on the following links:
Chris Thompson Economic Development Professional Excellence Award
The Economic Development Core Capacity of USET created this award in 2019 in recognition and appreciation of Tribal professionals and their innovation, dedication and contributions to economic development success in USET member Tribal Nation communities while promoting USET's mission and statement of unity.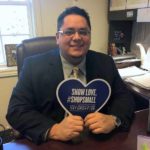 Chris Thompson, past USET Economic Development and Entrepreneurship Committee Chairperson, was the inaugural recipient for many reasons.  passion for sharing his wisdom and the spirit he radiated when he was in the midst of his community, even in the face of challenges that seemed insurmountable, exemplifying what everyone should strive to emulate. Chris embodied USET's call to action, "Strength in Unity," by sharing his knowledge and expertise in every aspect of economic development. He lived and breathed economic development.  He once said, "Economic Development is something you live.  It's not something you turn off when you get home at night."  This was evident in all things he did, whether it was his service to the USET's Economic Development and Entrepreneurship Committee or his dedication to growing access to capital with the USET Community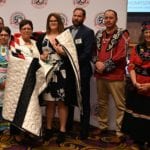 Development Financial Institution.  His peers respected and appreciated his vast knowledge and enthusiasm about economic development and its importance to every community in Indian country.

NEWSLETTERS