Jena Band of Choctaws Indians' Tribal Nation citizens and their families in the Zenoria Community of Jena, Louisiana lost their homes and all their belongings due to recent flooding. The families were evacuated and have been set up in temporary homes while a permanent solutions is sought. Currently, it is estimated 11 Tribal Nation families/households have been impacted by the flooding, effecting 37 individuals.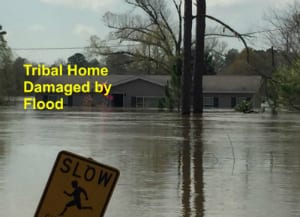 Many Tribal Nation roadways remain inundated with water and are closed. Ongoing flooding is primarily due to swollen rivers, creeks, bayous and lakes across the area. The high water continues to pose an immediate danger.
USET has established a Tribal Emergency Relief Fund (TERF) to support recovery efforts of the Jena Band of Choctaw citizens that were adversely impacted by recent flooding.
To make a donation to TERF, visit www.usetinc.org, click on the Tribal Emergency Relief Fund large box and follow the steps to enter your credit card information, OR
Send check or money order to:
United South and Eastern Tribes, Inc.
Attention: TERF-Jena Band of Choctaw Indians
711 Stewarts Ferry Pike, Suite 100
Nashville, Tennessee 37214
Please make checks payable to:                USET, Inc.
Please write in the memo:           TERF-Jena Band of Choctaw Indians
You may click here for immediate donation.
For additional information feel free to contact Harrell French, USET Senior Project Coordinator II, at 615-467-1636 or hfrench@usetinc.org