2014 USET Impact Week
February 3, 2014
For Immediate Release
For more information Contact:
Brandon Stephens, Development Director
(615) 467-1560
bstephens@usetinc.org
(Washington, DC) – – The United South and Eastern Tribes, Inc. (USET) 2014 Impact Week is filled with activities for its Tribal leadership and attendees. Unity, building stronger Tribal communities, and transcending challenges faced in Indian Country is the tone set in USET President Brian Patterson's welcoming remarks. "It is the spirit and integrity of our people that is represented here. I think we do ourselves a bit of disservice to recognize things like a Carcieri Fix. We are not working to a Carcieri Fix. It is our (Indian Country's) ability to secure our future generations within a Tribal Lands throughout the trust process. It is working together to find solutions." President Patterson refers to the on-going struggle and challenges Tribes face with placing land into trust as a result of the U.S. Supreme Court decision of Carcieri versus Salazar (2009).
During this week USET's Board of Directors will receive visits from White House Domestic Policy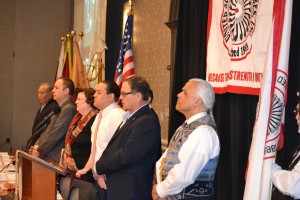 Counsel and Public Engagement, U.S. Department of Health and Human Services Indian Health Service, Small Business Administration, Treasury, Homeland Security, Interior, Justice, Federal Communications Commission, Energy, and various non-governmental partnerships and individuals. Tribal leadership will also visit with members of Congress this week to discuss issues ranging from finding a Carcieri Fix, taxation, Farm Bill, Trust Reform, Special Diabetes Program for Indians (SDPI) reauthorization, federal contract support cost, IHS forward funding, Indian Budget, and Indian Education.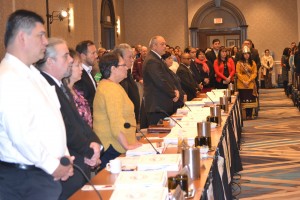 Impact Week includes a Capitol Hill reception with members of Congress, cultural activities, and providing comment to various federal listening sessions and consultations. Health and Human Services Indian Health Service will take comment on the reauthorization of SDPI during a consultation. Treasury will hear from Tribal leadership in three different meetings, focus group sessions, and consultations on access to capital and credit.
Youth and future leadership development is also a major focus this week. Students from various USET member Tribes are in Washington, DC to learn more about the functions of Tribal and federal government. USET and the Close Up Foundation are working in partnership to bring an enriching and empowering experience for USET Tribal youth.
President Patterson reminded Tribal leadership of its responsibility to not only be a good leader today, but to be respectful and nurturing to the older and younger generations. "So not only are we responsible for the rich legacy that not only created USET many years ago and to those leaders who have guided us and continued to support and put the effort necessary behind USET to succeed advance I am cognizant that we are responsible to the next generation and developing our future leadership," Patterson stated to USET's Board of Directors during opening ceremonies.
###
"Because there is strength in Unity"