Trump's Nominee for Indian Health Post Withdraws
Journal articles alleged Robert Weaver overstated work experience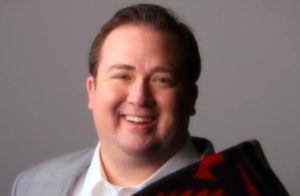 The Trump administration nominated Robert Weaver to be the director of the Indian Health Service. Photo: U.S. DEPARTMENT OF HEALTH & HUMAN SERVICES
By
Dan Frosch and Chris Weaver
The Wall Street Journal
Updated Feb. 22, 2018 10:53 a.m. ET
President Donald Trump's nominee to lead the Indian Health Service has withdrawn from consideration for the job, people familiar with the matter said.
The move by Robert Weaver, an insurance broker, comes after The Wall Street Journal published two articles earlier this year in which former colleagues alleged he had in some cases exaggerated his work experience and left a former employer in financial disarray.
In one case, Mr. Weaver said he had held leadership roles at a large hospital; however, some of his former colleagues and supervisors said his role there was as a registration clerk.
Mr. Weaver, 39 years old, a member of the Quapaw tribe of Oklahoma, was nominated to lead the agency in October.
The Indian Health Service, which provides care for more than two million Native Americans, hasn't had a permanent leader since 2015. It has endured a series of crises over poor treatment of patients.
Tribal lobbyists and advocates said they had heard rumors that the nominee had backed out starting last weekend. For some, the first confirmation came Wednesday: The agency's current acting director, Michael Weahkee, disclosed that Mr. Weaver had withdrawn to tribal leaders who were attending a meeting that afternoon of an IHS advisory panel in Reno, Nev., according to a person who was there.
"Mr. Weaver is no longer the administration's nominee for director of the Indian Health Service," a spokeswoman for the Department of Health and Human Services said after the Journal asked about Rear Adm. Weahkee's comments.
An IHS spokeswoman declined to comment. Mr. Weaver didn't respond to a request for comment.
Sen. John Hoeven (R., N.D.), chairman of the Senate Committee on Indian Affairs, said he would "work with the administration to get a qualified nominee in place at the IHS as soon as possible."
Some tribal officials privately questioned whether Mr. Weaver was up to the job, but he had attracted the public support of some of the nation's biggest tribes, and they continued to back him in recent weeks as concerns about his qualifications emerged.
His supporters championed his background running small businesses as a cure for what they viewed as an intransigent bureaucracy. They also praised his willingness to hear out Native American leaders' grievances about the failures of hospitals the agency runs on their reservations.
The White House had cited his "nearly two decades of experience in hospital, mental health administration."
Some of those claims didn't stand up under scrutiny. Mr. Weaver said on his résumé that he oversaw "all accounts receivable, budget, patient access and physician recruitment" at St. John's Regional Medical Center in Joplin, Mo., from 1997 to 2004. He also told the Indian Affairs committee that he held a succession of "leadership roles" there.
But, longtime employees in departments that Mr. Weaver claimed to lead, such as St. John's budget coordinator, had never heard of him, the Journal reported in January. Other colleagues remembered him as a patient-registration clerk in the emergency room, and one former supervisor said he eventually rose to be the lead clerk for the evening shift.
The founder of a Joplin psychology practice that had employed him said he left that business in financial trouble. Previously, an HHS spokesman said that Mr. Weaver rejected the founder's characterization of his tenure at the firm.
The Journal reviewed public records that showed he had filed for personal bankruptcy and had tax liens against one of his businesses as recently as 2011.
The HHS spokesman previously said Mr. Weaver was "a highly qualified candidate," that he'd held many roles at St. John's, had emerged from bankruptcy to found successful businesses and settled the 2011 liens.
Still, the series of revelations prompted lawmakers on both sides of the aisle to question whether Mr. Weaver was qualified to lead a public-health system with a roughly $6 billion budget, people familiar with the matter said.
No date for a confirmation hearing was ever set.
Sen. Tom Udall (D., N.M), vice chairman of the Indian Affairs committee, said: "Now the Trump administration must honor its trust responsibilities to American Indians and Alaska Natives and nominate—and fully vet—a director with the strongest possible combination of leadership and fiduciary skills as well as experience running a large public health system."
Write to Dan Frosch at dan.frosch@wsj.com and Christopher Weaver at christopher.weaver@wsj.com
Corrections & Amplifications
An earlier version of this article incorrectly stated that Robert Weaver is a former insurance broker. He is currently a licensed insurance broker.
Appeared in the February 22, 2018, print edition