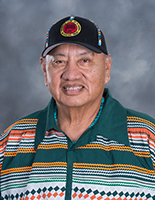 BY NATIVE NEWS ONLINE STAFF OCTOBER 16, 2020
ALBUQUERQUE, N.M. — One week after his passing, the American Indian Graduate Center honored the life of Max Osceola Jr., the former chairman of the Seminole Tribe of Florida's council who passed away last week, by creating the Max Osceola, Jr. Memorial Fund. He was 70.
Osceola served on the Seminole Tribal Council for more than two decades. He was re-elected to 13 consecutive two-year terms between 1985 and 2010. During his tenure he augmented Seminole Tribal gaming by expanding its gambling operations and overseeing the construction of the Seminole Hard Rock hotel, cafe and casino.
"Max has changed the course of history for the Seminole Tribe, but more importantly he has left a lasting impact in the hearts of the Seminole people," National Indian Gaming Association's Chairman Ernest Stevens Jr. and American Indian Graduate Center board member said. "He had a huge heart and knew how to have fun when it was time to have fun. Yet his work ethic was unquestionably powerful and disciplined. It is a privilege and an honor to call Max my friend. I miss him deeply and will carry his memory with me always."
"American Indian Graduate Center is honored to celebrate the life and legacy of Mr. Osceola Jr.," said Angelique Albert (Confederated Salish & Kootenai Tribes), American Indian Graduate Center executive director. "His love and commitment for his Tribal community throughout his life is a testament to his dedication to empowering our people. Creating the Max Osceola, Jr. Memorial Fund is the perfect way to commemorate an incredible man who has given so much to Indian Country."
Beyond his service to his tribe, Osceola also worked with several nonprofit organizations in south Florida, including the Boys and Girls Clubs, Ann Storck Center, Winterfest, the Victory Junction Camp and Kyle Petty Charity Ride Across America. In 2017, he was inducted into the Broward Education Foundation Hall of Fame and in 2003 he also was inducted into the Broward County Sports Hall of Fame.