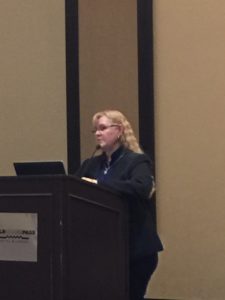 Dr. Dena Winslow from the Micmac Service Unit presented on "Maine Moose and Micmac Youth" at a recent Tribal Vector Borne Disease Meeting.
Dr. Winslow discussed Micmac's efforts to inform Tribal youth that moose carry ticks, educate youth about preventive measures against ticks, and engage youth in counting ticks on moose and collecting blood samples. Hosted by the National Indian Health Board and the Inter-Tribal Council of Arizona, the Tribal Vector Borne Disease Meeting took place February 13-14 at the Wild Horse Pass Hotel & Casino, Gila River Reservation, Chandler, AZ.
The workshop focused on preventive measures to combat vector borne diseases, particularly Rocky Mountain Spotted Fever and Zika virus. Attendees included Tribal environmental and health professionals, as well as staff from Tribal Epidemiology Centers, U.S. Environmental Protection Agency, Arizona Department of Health, and Maricopa County agencies.