Ah-Tah-Thi-Ki Museum will host a reception on Jan. 11.
By Alina Quintana Ah-Tah-Thi-Ki Museum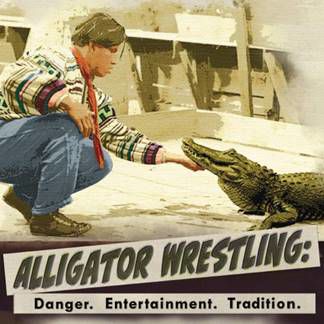 "Alligator Wrestling: Danger. Entertainment. Tradition" exhibit will be open to the public until December at The Seminole Tribe of Florida's Ah-Tah-Thi-Ki Museum.
The exhibit explores the deep roots of the Seminole Tribe's relationship to alligators.
Museum visitors will discover how alligator wrestling took hold and how it helps preserve culture and tradition today, while learning about the biology of an alligator through interactives and watching the incredible skill and techniques of alligator wrestlers on screen.
To celebrate the exhibit opening, the Ah-Tah-Thi-Ki Museum will host a reception on Jan. 11. Featuring a catered lunch, entertainment, guest speakers and an alligator wrestling show, the reception is included with the price of a museum admission ticket.
During the reception, there will also be a private screening of the documentary film — "Allapatah." Directed by Adam Khalil and Adam Piron, the film spotlights alligator wrestling as a staple of Florida tourism that began as a means of survival for the Seminole and Miccosukee Tribes of Florida. It explores how the technique evolved and its meaning to those who continue to practice it.