WE ARE THE SEEDS
Footloose: The fancy dancing of Sherenté Harris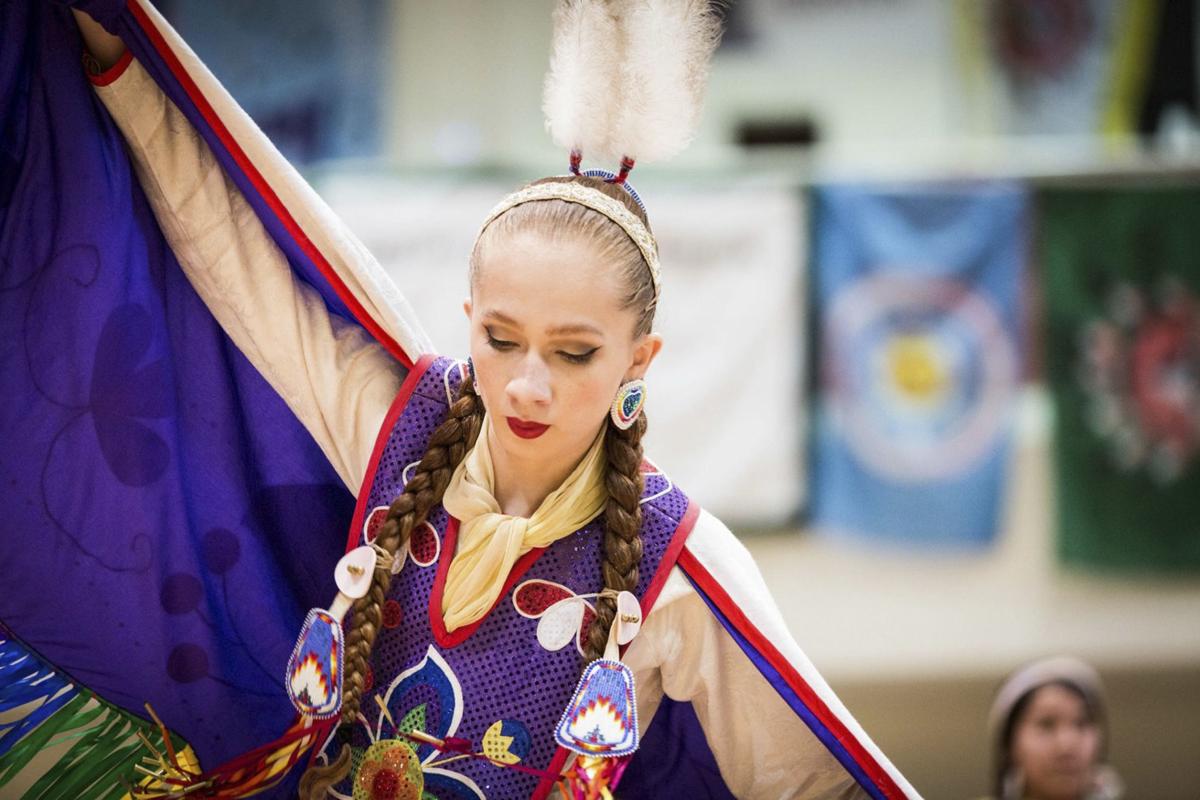 Sherenté Mishitashin Harris (Narragansett) comes from a large family of champion powwow dancers in Charlestown, Rhode Island. His grandmother was an Eastern Blanket dancer; his mother is known for the Fancy Shawl dance. As a child, Harris followed in his father's footsteps and competed as an Eastern War dancer. Harris, who is eighteen and came out as "two spirit" a few years ago, has recently earned a reputation on the powwow circuit for breaking down gender barriers in the Fancy Shawl dance. He is an experienced and confident public speaker — a natural fit to emcee this year's We Are the Seeds, an indigenous art market held in Railyard Park on Thursday, Aug. 16, and Friday, Aug. 17.
"I will be hosting onstage as well as singing, dancing, and doing traditional storytelling," he said. "I'm part of the Turtle Clan within the Narragansett tribe, which is traditionally our storytelling clan."
He is also a visual artist; in a tent located near the stage, he will display a pen-and-ink illustration series called Complete the Circle,which chronicles his experiences as a two-spirit person, and talk about his activism in 30-minute sessions each day. He explained that "two spirit" is a modern pan-Indian term that is used to describe nonbinary gender and sexuality in Native American communities within a traditional cultural context. Two spirit is not specifically an LGBTQ designation — though some people use it in this way — nor is it synonymous with transgender identity. "For me, I guess I am two spirit in the purest sense. When I was going through my depression and struggling to comprehend what I was, I went through a period of dismantling my ideas about gender. It was very complex for a thirteen-, fourteen-year-old. People told me that if I was transgender, I would have known ever since I was young. But what does it mean to be a man or a woman? I identify both as a man and as a woman — but really, at the end of the day, I'm just being myself."
(As for as how to refer to Harris, he is at ease with whatever pronouns make people comfortable — he, she, or they. Or, he said, just call him by his name. "I really don't want people to stress about pronouns for me — without taking away from people for whom that is a very important part of their identity.")
Part of coming out and embracing his two-spirit identity was changing the way he danced. "Dance is a sacred way of giving thanks," he said. "If I continued to dance in a way that didn't speak to who I truly was — if I continued to dance in a way that ignored the gifts that I've been given — it would be an empty prayer. What would even be the point of me giving thanks if my dance is not what I'm thankful for?"
As an Eastern War dancer, he honored the path of his father. Now, he wanted to honor his mother with the Fancy Shawl dance. The Fancy Shawl, originally called the Graceful Shawl dance, dates to the 1950s, when women in northern tribes along the U.S.-Canadian border added traditionally feminine touches to fancy dances developed in the 1920s in response to the federal government's ban on tribal dances. In the 1970s, with the emergence of the women's movement, the Fancy Shawl dance grew into the dazzling, whirling display that is seen today. "The dance is quite flamboyant and fast-paced, with intricate footwork," Harris said. "The original women who danced it faced backlash and criticism for breaking traditions within the circle and the set expectations about what women should do. Those women persisted and continued to dance, regardless. Over time, they were able to change the ideology of their communities and reach a point of acceptance where it's now one of the biggest dances in the powwow world."
In order to get ready for competition, Harris practiced daily for a year, including during his physical education period at school. Eastern War dancers perform one basic step in a bent-over posture, while Fancy Shawl is danced with an erect spine. He had to change his center of gravity and replace the arm movements of the men's dance with the footwork of the women. He practiced without any assurance that when the time came, he'd be allowed to compete in the circle with the girls. He first started dancing Fancy Shawl at powwows in the switch dance — in which men and women perform each other's dances — wearing his mother's old regalia.
"The switch dance is often not taken very seriously, and it's considered a comedic type of thing," he said. "The men doing Fancy Shawl look a hot mess. It's supposed to be graceful."
When he decided he was ready to dance with the girls, he found out that some of the people in charge did not want him there. When he began joining the circles anyway, powwow officials would tell the judges not to judge him — which Harris said did not always go over well, because judges prefer to decide for themselves the ethical implications of a two-spirit person dancing with women. At one powwow, when given such an instruction, "The judges took it as not to judge me for who I am — though that was not what the powwow committee meant. I ended up getting fourth place. Once that happened, it went from being a personal thing where only some people knew what was happening to me, to now I was standing there in fourth place, and people saw me. At the next powwow I got third place, then second place, and then first place."
At each powwow, he said, people would gather around him as he performed to throw cash at his feet, which is given to dancers in lieu of other kinds of more traditional gifts to show support for their efforts. He went on to act as the head two-spirit dancer at the Dartmouth Powwow in 2017, but his battle was not over. When he returned to the powwow where he'd placed fourth the year before, the committee once again told the judges not to judge him. What happened next belongs in a major motion picture.
"The judges were so upset that they walked off right when competition was supposed to start. We were all standing in the arena looking at each other, not knowing what to do. They had to get new judges."
He danced that day amid some chaos and, that night, Harris and his mother wrote Facebook posts about what had happened. The posts quickly went viral among indigenous people on social media. The next day, when he arrived to dance once again, there was an outpouring of support. "As the competition happened, people started filling in around me, creating this wall around me, honoring me, throwing money at my feet, creating this huge spectacle. Have you ever seen the movie It's a Wonderful Life? It was my George Bailey moment — 'To my brother, the richest man in town!' I was sobbing. My entire community and my family rose to the occasion in my darkest hour."
The uproar was so intense that the greater tribal council of the tribe that had hosted the powwow sent a representative to visit the family and apologize for the way Harris had been treated. Harris called the change he was able to effect by being true to himself "massive." Nothing seems to be standing in his way now: He was the head two-spirit dancer once more at Dartmouth's 2018 powwow in May, and this fall he begins a dual degree program at Brown University and the Rhode Island School of Design, where he will focus on illustration. He also works in his community to preserve and revitalize the traditional Narragansett language, which he said is inextricably tied to dance because both allow for "such a profound insight into the traditional beliefs of our people."
Dance, however, remains his first love. "Every time I go to dance, it feels like I'm born again," he said. "I feel at one with who I truly am." ◀
▼ Sherenté Mishitashin Harris, emcee of We Are the Seeds, discusses his artwork and activism
▼ 2 p.m. Thursday, Aug. 16, and 4 p.m. Friday, Aug. 17
▼ Railyard Park, 740 Cerrillos Road