Group seeks to bring chestnut back from blight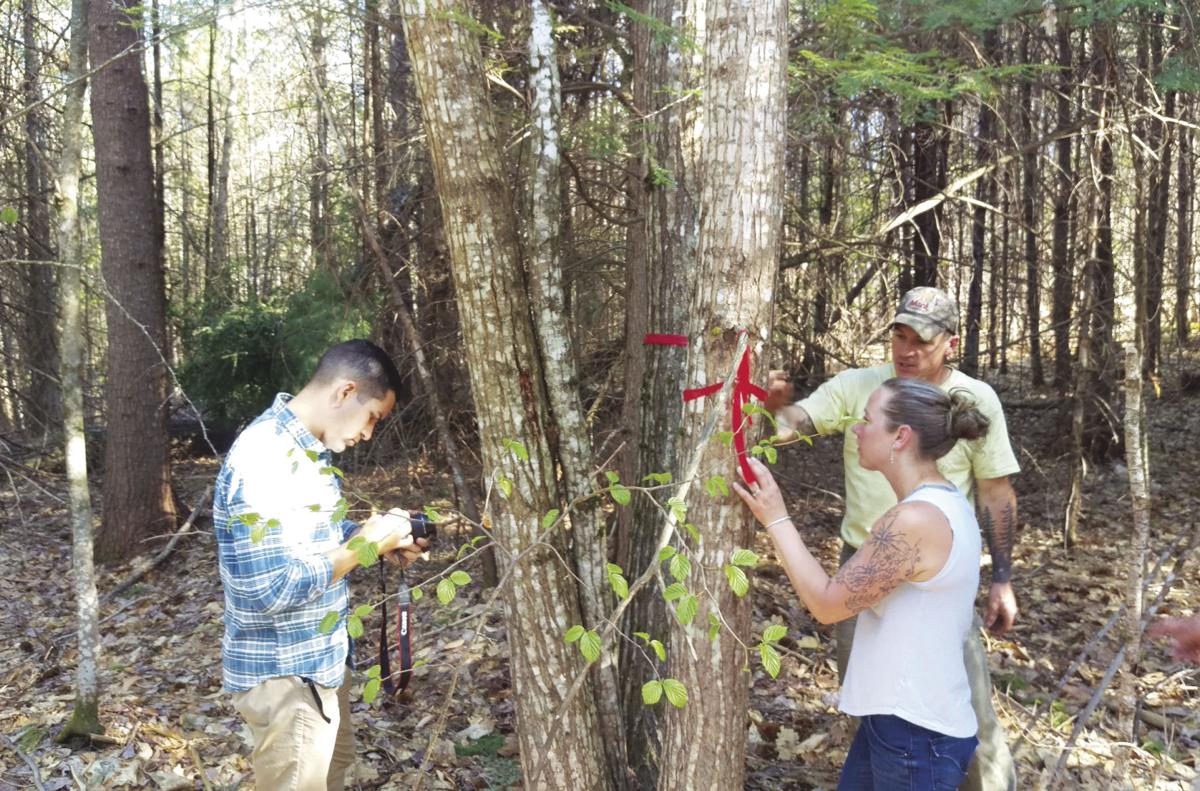 FRYEBURG, Maine — Fryeburg officials and a member of the Eastern Band of Cherokee Indians traded seeds and stories about the once abundant American chestnut in East Fryeburg recently.
Joey Owle, the Cherokees' secretary of agriculture and natural resources, flew to Maine to receive chestnut tree seeds as both a gesture of goodwill and part of a forestry management plan on his tribe's land in western North Carolina.
The meeting took place May 9 at the 200-year-old East Fryeburg homestead of Fryeburg Conservation Committee Co-Chair Allison Leach and her arborist husband, Jeff Leach.
Also on hand were conservation committee members Sherri Billings, Robert Ricks (co-chair) and Warren Richardson (treasurer).
Allison said with the tribe's help, the goal "is to explore the avenues of reintroduction of the American chestnut tree throughout the Appalachian Mountains."
The American chestnut was an integral part of North America's forest ecosystem until a chestnut blight, a fungus from Asia, was unknowingly imported in the early 20th century. By 1930, half of the trees were dead, from northern North Carolina to Ohio. Within 40 years, the fungus had killed 4 billion chestnut trees on the East Coast.
But that may change as the American Chestnut Foundation, researchers and local groups search for a solution to the recurring blight.
Chestnut trees once provided a bountiful and frost-resistant "mast" or food source, through their seeds, for forest creatures.
Earlier Americans also ate the seeds, as well as using them for livestock feed.
Chestnut wood was prized for its straight wood grain, light weight and rot-resistant qualities. Its lumber was used for everything from fine furniture and home construction to railroad ties and musical instruments.
Talking about the impressive original stands of chestnuts, Jeff Leach referred to them as "the redwoods of the East Coast."
The mature chestnuts that the group viewed on the Leaches' property were not planted but grew naturally, he said.
"What I've always found crazy about learning about the chestnuts is how Dutch elm disease was on the forefront, and everyone was upset about losing elm trees," Jeff noted. "But losing the chestnut was a huge economic blow. The elm tree is an ornamental shade tree. But you could use the chestnut tree for anything."
Jeff and Allison take an active interest in the chestnut trees on their 450-acre property, tracking their progress, collecting viable seeds and getting the word out. They collect seeds throughout the year and plant them in spring. Chestnut seeds must be pollinated in the tree before having a chance of germination when they fall. The Leaches have 40 viable seeds and the tallest chestnut tree on their property is 85 feet.
Allison said chestnut trees in the region are rare. "I think there are very few viable trees around here now that are healthy and blight-free."
Chestnut seeds grow in a tough cocoon-like pod, each one containing three to four seeds. According to Allison, the chestnut trees on their land blooms white in July and can be seen for miles.
Through the American Chestnut Foundation, anyone can pay $1,000 to become a member and receive 10 chestnut seeds to plant. The foundation retains the right to any trees and seeds that result.
Lori Jean Kinsey, executive director of Tin Mountain Conservation Center, said the only chestnut trees she knows about locally are in the Fryeburg area.
"We have a few of the hybrid ones on the property (Tin Mountain land) as well as a native tree that came from a tree in Fryeburg," she said.
According to Donovan Spaulding, Tin Mountain's forestry intern, pockets of blight-free chestnut trees are a rarity. The trees usually succumb to the fungal infection before reaching a mature age. Hybridization with Chinese and Japanese chestnut variants have led to increasingly successful blight-resistant trees.
There is currently no silver bullet for protecting the trees from blight, but experiments are ongoing. Owle said Michigan State University is testing blight-resistant techniques such as using unique strains of bacteria to inoculate chestnut trees, which so far has proven successful. "But it differs per strain," Owle said. "When you use that technique you have to find the exact match."
Jeff Leach mentioned a technique called "mudpacking" where "they excavate and air-spray all the roots and just pack the roots with new mud and soil." But he added, "I don't think anything is a prudent cure to save the American chestnut."
Owle elaborated on the situation his tribe is in and why he's interested in chestnut trees in New England.
"We're working on a forest management plan for about 5,600 acres," Owle said. "If you're familiar with working with BIA (Bureau of Indian Affairs), it's painfully underfunded." BIA is responsible for managing tribal lands and forests, but Owle expressed frustration with the pace of forest management in his area.
Allison gave Owle 22 chestnut seeds to take back to North Carolina. Owle said he'll be interested to see how the genetics in Maine chestnuts respond to the Southern climate