Little Miss Wampanoag Lends Hand To The Pine Ridge Reservation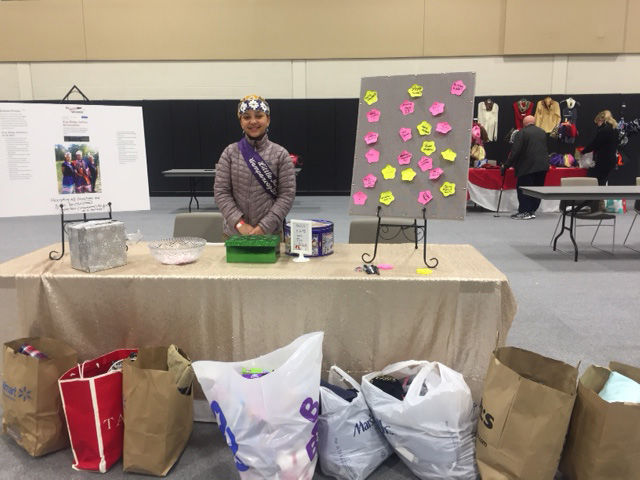 Some 200 Native Americans living in the Pine Ridge Reservation in South Dakota will have fresh socks for the new year, as well as other goods, thanks to the efforts of one 7th grader at Mashpee Middle/High School.
Paris Widdiss-Hendricks, age 13 and the Little Miss Wampanoag for 2017-2018, learned of the hardship endured by the residents of one of the country's largest tribal reservations after a young girl visited Mashpee earlier this year.
"I did some research and learned about the unemployment rate that was over 90 percent and the high teenage suicide rate," Paris said, after meeting the girl at a social organized in Mashpee. "I wanted to do something positive and decided Christmastime would be the best time to do a fundraiser."
The Pine Ridge Reservation covers some 2 million acres in the southern section of South Dakota and is home to mainly the Oglala Sioux Tribe.
The reservation was the site of a number of historically pertinent events, including the Wounded Knee Massacre and, in recent history, the site of a protest against police brutality on Indian reservations during the 1970s, organized by the American Indian Movement. While the most recent water protector movement protesting the planned XL Pipeline was staged at the Standing Rock Reservation to the north, tribal members from Pine Ridge participated.
In 2015, The New York Times published a story noting the high suicide rate on the Pine Ridge Reservation among tribal youth. In a three-month period, the Times reported that nine youth had died by suicide.
The Friends of the Pine Ridge Reservation, a participant in the Amazon Services LLC Associates Program, says that the county is the poorest in the country and that the median income ranges from $2,500 to $3,500.
So Paris, as Little Miss Wampanoag, decided to help out the community. For the holiday season, Paris put together a booth at a craft fair at the tribal headquarters in Mashpee, and she also collected donations at a regular tribal meeting.
"We had an overwhelming response," she said. She collected coats, blankets, heaters, backpacks, and other items. Paris has an acquaintance who worked at Philip Morris Co., which contributed more than 200 pairs of socks. And Paris said that they collected more than $1,000 in donations. "It was beyond what we expected," Paris's grandmother, Donna M. Widdiss, said. "It was a tremendous outpouring of support."
Paris, with the help of her family, connected with David Pocknett, who had lived on the Pine Ridge Reservation, to bring the goods for the holidays. She marked up a board with all the names of the donors and it will be shipped to the Pine Ridge Reservation.
The effort has been a good one so far for Paris.
"This has been an awesome experience," she said.