Mashpee Senior Receives Academic Award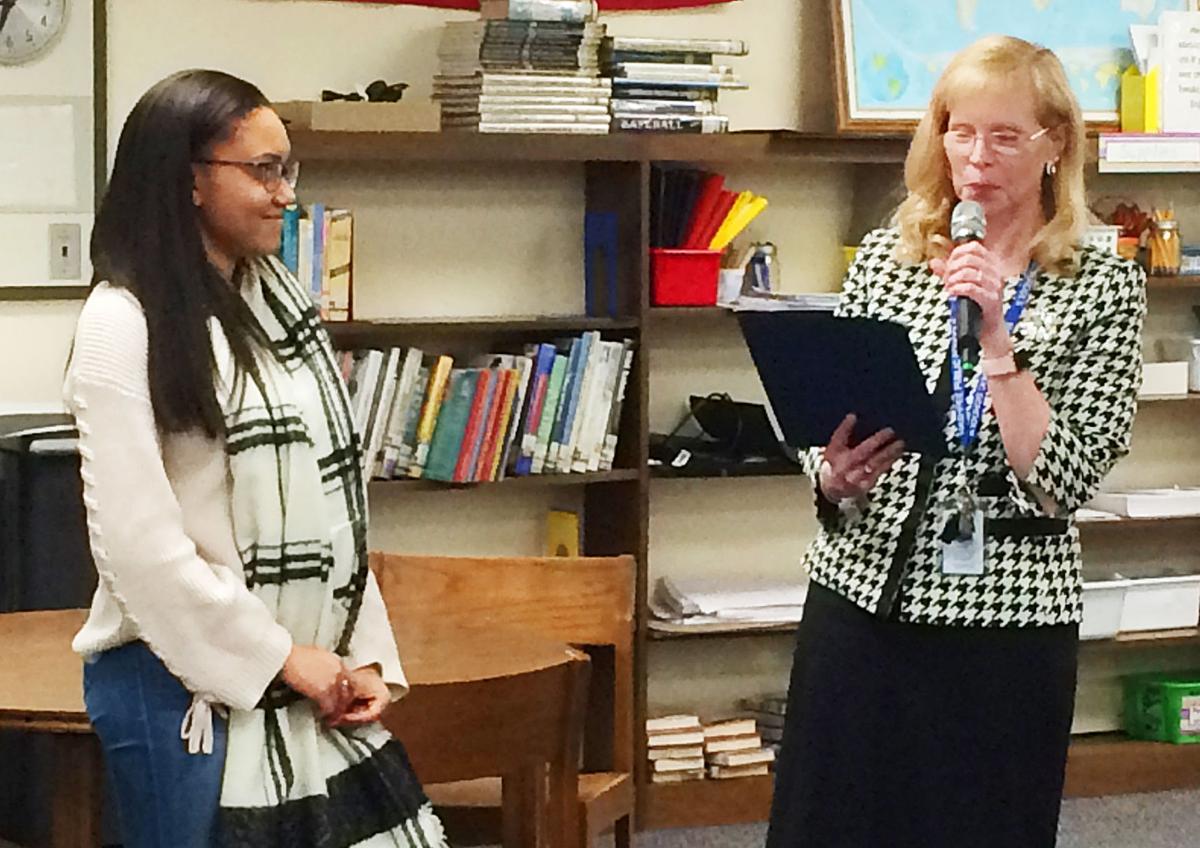 Brianna D. Cheatham, a senior at Mashpee Middle/High School, is Mashpee's recipient of this year's Massachusetts Association of School Superintendents Certificate of Academic Excellence.
Mashpee school superintendent Patricia M. DeBoer presented Brianna with the certificate during the Mashpee School Committee meeting Wednesday evening, January 3, at the Quashnet Elementary School library.
Ms. DeBoer said she has followed Brianna's many successes for years, since Ms. DeBoer served as Quashnet School principal. She called Brianna "a standout in the classroom, on the field and court, and in the community" as well as a "people person who makes everyone around her feel special."
Among her many accomplishments, Brianna is secretary of the Mashpee Wampanoag Youth Tribal Council and has been secretary of the Mashpee High School Class of 2018 for the past four years.
She is the vice president of the Key Club and is a member of the National Honor Society. She ranks fourth out of 102 students in the Class of 2018, with a weighted grade point average of 102.8 percent, Ms. DeBoer said.
Brianna has been an ambassador for Mashpee during the Girls STEM Summit, which showcases excellence in science, technology, engineering and math.
She is not just academically gifted; she is also a varsity cheerleader who has been a dancer since age 3 and a competitive dancer for the past eight years, Ms. DeBoer said. Brianna is now a volunteer dance mentor and coach to younger students at the Riverview School in Sandwich.
Ms. DeBoer said Brianna has taken advanced placement classes in physics, calculus, literature, biology and human geography.
Brianna said she hopes to pursue a career in nursing after she graduates this spring. She has applied to Boston College, University of Connecticut, Drexel University, Loyola University Chicago, University of Massachusetts Amherst, University of Massachusetts Boston, University of Rhode Island, Temple University, Villanova University and Pace University.
Brianna said she has already been accepted to several of those schools but has yet to make a decision.
When asked what sets her apart from her fellow students, Brianna said, "I care a lot about the well-being of others and will go above and beyond to do the things I know will benefit the ones I love."