WE ARE THE SEEDS
Nurturing narratives: Seeds showcases the contemporary indigenous experience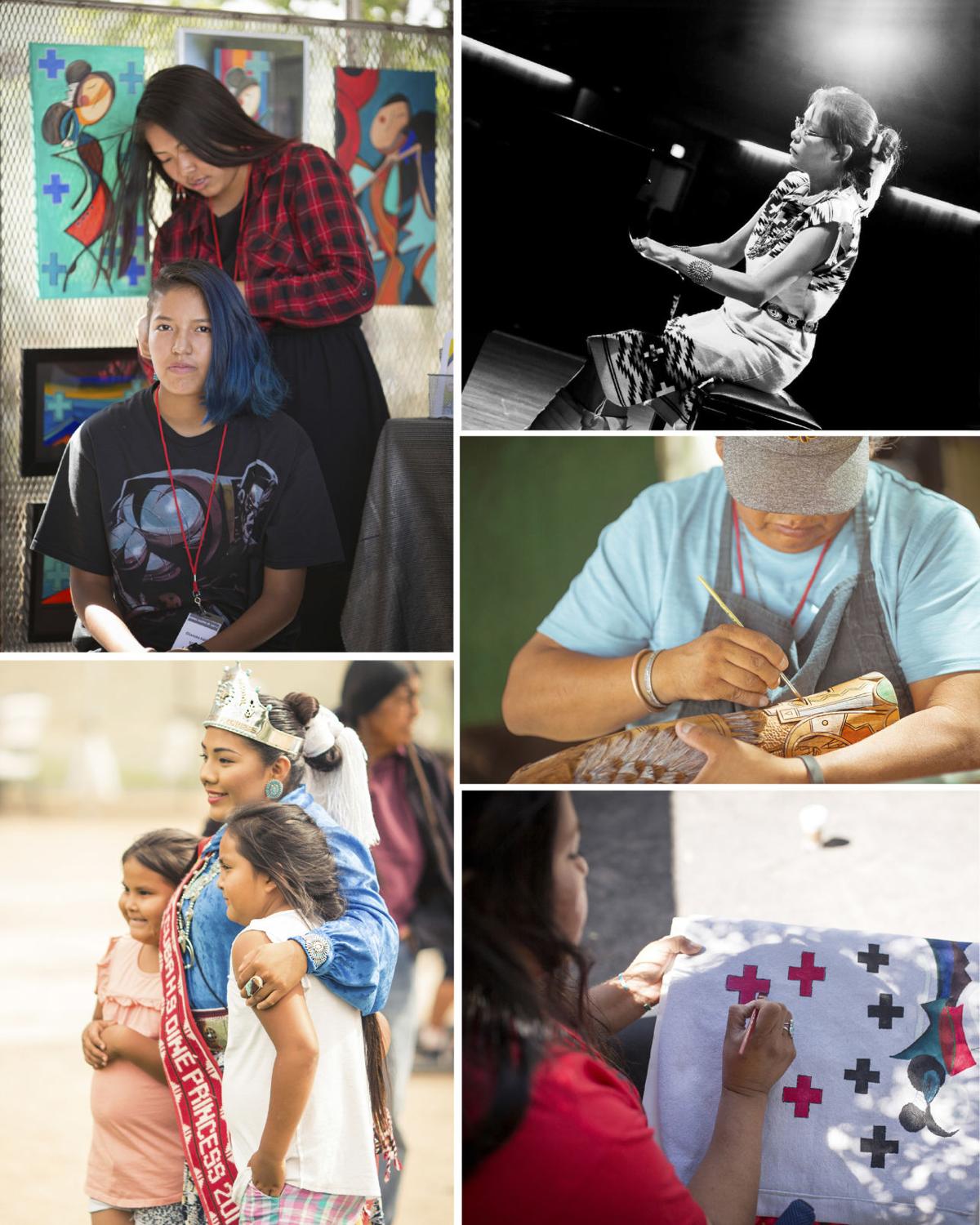 If Santa Fe Indian Market is the pinnacle of traditional indigenous art festivals in Santa Fe — with almost 100 years of history behind its reputation for high-quality Native-made wares — then consider We Are the Seeds its younger, punk-rock cousin. Seeds, as it is called for short, is Friday, Aug. 16, and Saturday, Aug. 17, in the Railyard Park. Now in its second year, Seeds is a free festival where artists come from around the country to sell their work, hang out for a couple of days, talk to locals, see family, and reconnect with friends they've met at other markets over the years. There is space for everyone at Seeds, from elders with armloads of awards to younger artists whose work ranges from traditional to fine art, or exists somewhere in between.
Far more than just an art market, Seeds also features live music, art-making demonstrations, a spoken-word workshop for Native women, activities for kids, a fashion show, and a Thursday-night social dinner and dance. Tailinh Agoyo (Narragansett/Blackfeet/Chinese), co-director of Seeds, and emcee Sherenté Harris (Narrangansett) lead the dances, for which participants do not have to be in regalia. The evening event is free of charge and includes a silent auction of artwork as well as a $20-per-plate dinner catered by Jambo Café, proceeds from which benefit We Are the Seeds of Culture Trust. The Herrera Singers from Cochiti Pueblo will drum and sing.
"A social is when we come together to share and enjoy dances, songs, and food. At Seeds, we'll be inviting visitors to join in our celebration," Agoyo said. "To me, Thursday evening feels like a beautiful, festive, and inclusive community celebration. We will not be performing for an audience; rather, we will be inviting guests to share and celebrate our culture with us." Among approximately 60 artists showing at Seeds are numerous jewelers, including Margaret Jacobs (St. Regis Mohawk), Tchin (Narragansett/Blackfoot), Nanibaa Beck (Navajo), and Kristen Dorsey (Chickasaw). Painters include Brent Greenwood (Chickasaw/Ponca), Robert Martinez (Northern Arapaho), and Baje Whitethorne Sr. (Navajo).
There are also potters, printmakers, photographers, and graphic designers, as well as fashion designers working in everything from haute couture to street styles. Designer Loren Aragon (Acoma Pueblo), heads up the fashion show component of Seeds for the second time. This year's theme is "Her Empowerment, Our Legacy." Seven designers, including Aragon, have created garments using nontraditional materials; they will collaborate with Seeds artists in their booths to embellish and style the pieces prior to the fashion show on Friday afternoon.
"Artists are looking at using aluminum cans, plastic bags, pieces of wood," Aragon said. "We want them to produce something totally different and off the wall. We're encouraging them to go big or go home."
Aragon's company, ACONAV, is named for the cross-cultural collaboration he shares with his wife, Valentina, who is Navajo. In 2015 Aragon participated in New York Fashion Week for the first time, and in 2017 he was named Phoenix Fashion Week Designer of the Year — the first Native American fashion designer to earn that recognition in the history of the event. On June 30, ACONAV debuted a design at the opening of Creating Traditions: Innovation & Change in Native American Art at the American Adventures Gallery at Disney's Epcot Center. The dress was inspired by Acoma Pueblo olla (ceramic pots).
The other designers are Jolonzo Goldtooth (Navajo) of JG Indie, who creates urban styles, and a young Navajo designer named Sabrina Seaton. Mae Mallahan (Navajo) takes inspiration from Navajo basket design and weaving. Josie Seymour (Laguna Pueblo) has not only designed a dress for the fashion show but will also sell her pottery at the market. Jennifer James (Navajo) began showing her work just two years ago, while Shirley Pino of RedWing Design has been designing traditional costumes and contemporary fashions since 1997 at Santa Ana Pueblo. Most of the models, hairstylists, and makeup artists are from New Mexico and the surrounding area, which Aragon considers important to the theme of the show and to Seeds' general purpose.
"The fashion show isn't just for the designers. Stylists are the unsung heroes of the fashion industry, and we are reaching into the community to find people with those talents." He also emphasized that the models are of diverse body sizes and types, which he said was another level of challenge for the designers, who had to break out of the fashion-industry paradigm of designing exclusively for tall, thin women. As for how he is interpreting the theme of "Her Empowerment, Our Legacy," he said that when women put on his garments, he wants them to feel strong inside and out.
"My designs are revolving around the idea of suiting up to be a warrior," he said.
Performers grace the Railyard stage at 11 a.m. on Thursday, Aug. 16, and 11 a.m. on Friday, Aug. 17. Bands and solo musicians include Artificial Red, Celeste Worl, Desert Loops, Pueblo of Pojoaque Youth Hoop Dancers, Smokestack Lightning, Tchin, and Zachariah Julian. Renata Yazzie (Navajo) plays at 1 p.m. each day. She will perform a selection of original compositions, mainstream classical pieces, and pieces by contemporary Navajo composers.
"I consider myself a classical musician, but a musician first," said Yazzie, a graduate student at the University of New Mexico. "I'm always open to trying new things and collaborating with people in different genres. Right now, I'm collaborating with a poet and some rappers. I try not to limit myself to just the concert hall."
She is earning her master's degree in piano performance and musicology. Her master's thesis is about hymnal music that was long ago translated from English to Navajo, and how the hymns were adjusted to make the translations possible. Another of Yazzie's research interests is the indigenization of classical music, which she explained as a process of considering the needs of the audience and its interaction with the performer.
"For me, indigenizing classical music means to make it appropriate and culturally relevant to an indigenous audience. That can be done in a lot of different ways. You start out with the person performing it. You can talk about what you wear when you perform — and where you perform. Does your audience sit below the stage, or onstage with you, or around you in a circle? Do you play songs by Bach and Beethoven, or do you play Hungarian folk songs, or do you play songs by Navajo composers? There are a lot of variables that you can adjust to make the performance environment comfortable and safe, a place where Native people are enjoying the music, and you've made it a community gathering."
When discussing the benefits of playing at and attending Seeds, Yazzie said that Seeds is doing a great job showcasing contemporary indigenous life, "which is not just flute-playing, not just traditional turquoise. A lot of people who come to the different art markets are looking to live out this Wild West dream that they have. And we are not that. Our people are not that. We're not a people who live in the past. We're living in the present." ◀