Pequot Museum reopening delights visitors
By John Shishmanian
jshishmanian@norwichbulletin.com, (860) 425-4206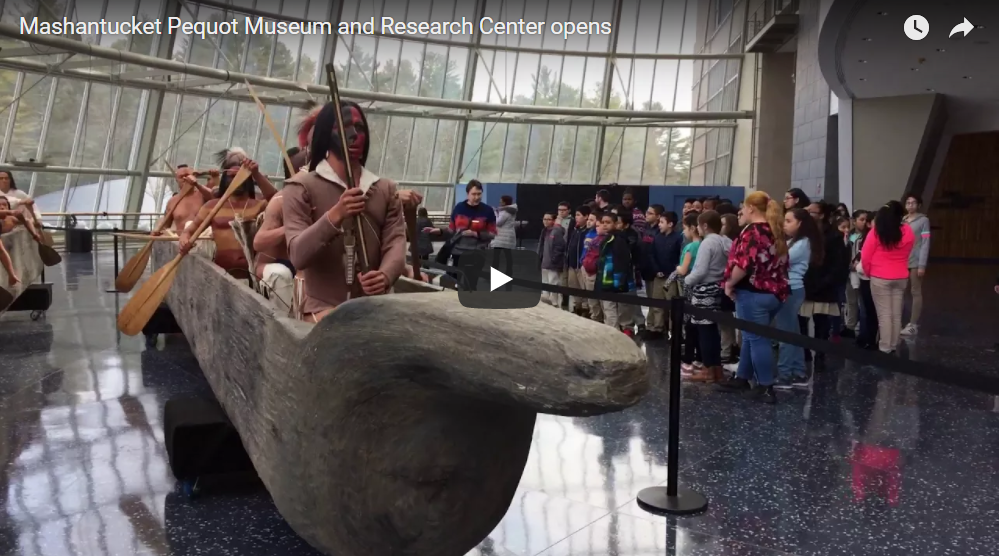 MASHANTUCKET – The Mashantucket Pequot Museum and Research Center reopened Wednesday to the delight of groups of elementary school children from New Haven to Greenwich.
A self-guided tour takes you through the time of the Mashantucket Pequots from the Ice Age to modern times.
There are four floors and 85,000 square feet of exhibit space containing thousands of artifacts. James and Marguerite Scallon, visiting from Dublin, Ireland, were on a three-day visit of the United States.
"I was absolutely amazed how expansive the interpretive center is and it's been a very worthwhile trip," James Scallon said.
Sheila Guerin, of Middletown, carried her grandson, Thomas Guerin, 5, visiting from Paoli, Pennsylvania, by reproductions of early 17th century wood dug-out water vessels called "muhshoons" with intricate carved and painted men and women rowing the boats.
The museum is celebrating its 20th year after opening to the public Aug. 11, 1998. Some planned events include powwows, exhibits of traditional and contemporary art, a native New Year's clam bake and the return of their 17th centry encampment.
The center is also host to high school proms, weddings, galas and birthdays. And of course there is a gift shop. Some Native American items include hand-made moccasins, wampum jewelry and blankets worn by eastern blanket dancers.