SCHC unveils photographs by Kenneth Mars, Jr.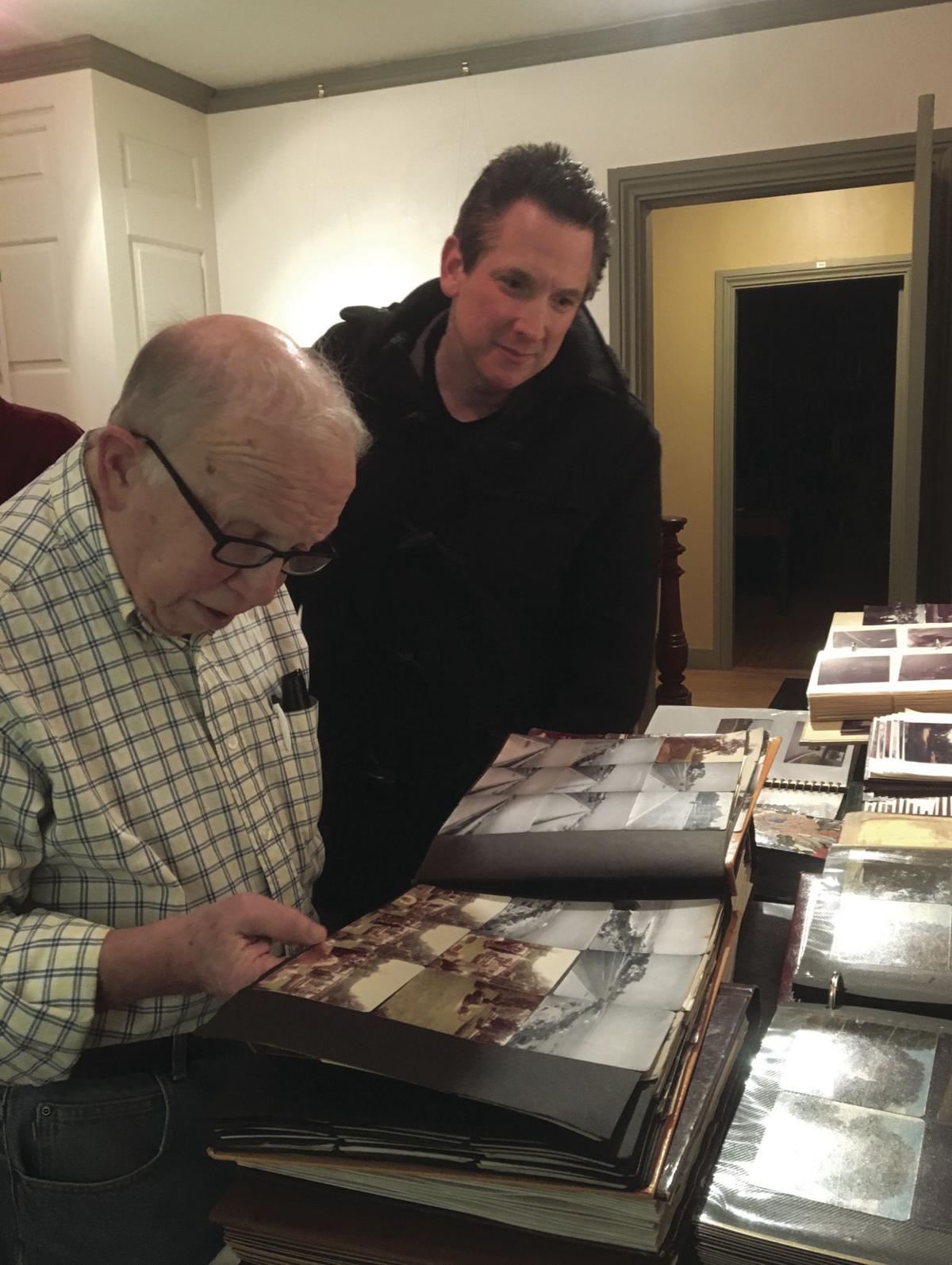 SOUTH KINGSTOWN—Heaps of weathered photo albums sat Thursday atop a table in the South County History Center (SCHC), stacks of boxes beneath it. Each was chock full of photographs—tens of thousands of them in total, spanning several decades—taken by the late Kenneth Mars Jr.
"He was documenting regular, daily life—on the street, in the church, at URI—for decades," Erica Luke, executive director of the SCHC, said just before formally accepting the collection on behalf of the SCHC.
"And it's not just those moments when everyone groups together and you say 'cheese,'" she continued. "It's everything in between those moments."
Last week's arrival at the SCHC of the Kenneth T. Mars Jr. photo collection has been much anticipated since last summer, when local photographer John Peterson offered to donate the collection.
It was thanks largely to a $5,000 Heritage Harbor Foundation grant that the SCHC was able to officially acquire the collection last week.
Heritage Harbor board member Joyce Stevos attended Thursday to present the grant check.
"It's an honor and a pleasure to be able to help [the SCHC]," Stevos said. "It's a valuable collection—the fact that someone who walked these streets, from Kingston to Wakefield, making a photographic record of what was here from the 1960s to the present is really important."
While the Mars collection was a donation, Luke said the SCHC wanted to wait to accept the collection until it had raised $15,000 toward its "History in Focus" capital campaign.
The overall goal of that campaign is to raise $45,000 to put toward purchasing scanning technology—which will be used to digitize the Mars collection—and converting a room in the history center into additional archival storage space.
It's all in an effort to help the center meet its goal of becoming a leading research and archival center for the preservation and promotion of South County history.
And with the Mars collection officially in its hands, the SCHC has taken a giant step toward realizing that goal.
Mars was everywhere in South Kingstown. A Narragansett Tribe member, a member of the South Kingstown Historical Society, a 40-year employee of the URI Memorial Student Union and an active participant in the Peace Dale First Church of God—people knew who he was.
Still, Peterson described Mars as "a very, very private" and a "quiet" man.
Peterson knew Mars from URI—his father worked with Mars at the university—although he and Mars were never close, and despite their shared interest in photography they never spoke about the subject.
"A lot of people do [photography] for a lot of different reasons," Peterson said Thursday. "[Mars] was very evasive with talking about why he did this work."
In fact, when Peterson approached Mars in 1992 to inquire about the mysterious photographer's motivation, Mars gave no answer.
"But that's what makes this so interesting, in my book," Peterson said. "It's great to go in and see how the houses looked 30 years ago, or [to see] that building that was torn down, but I want to get at why he did this."
"It's a mystery," he continued.
But Mars may have left a few clues to hint at his motivation. Notes accompanying the images detail Mars' interest in building history and genealogy.
Peterson said he chose to donate Mars' photography for public benefit, and because his photographs are too beautiful not to share. Although his original idea was to compile the images into a book, he decided the photographs would reach more eyes if in digital form.
"There are very few towns that have the luxury of having somebody who spent 30, 35 years shooting the town," Peterson said.
In all, over 25,000 photographs spanning from the 1960s until 2011 prove Mars' fascination with his hometown.
Candid photos of residents relaxing on front porches; strolling along sidewalks; riding bicycles down Main Street; throwing celebrations.
An old Shell station in Wakefield, captured in time. Retro cars line the street; a sign announces "$0.60" per gallon of gasoline.
Discolored images of trees no longer standing and buildings long-gone.
Dozens of nearly identical images side-by-side, each differing slightly from its neighbor. And in another album, the same familiar scenes but captured decades later.
And while Peterson said he doesn't have a favorite photo—he hasn't even gotten through them all, there are so many—there is one that stands out in his mind.
"There's a photo of myself when I was four or five," said Peterson, who today is 45. "When my parents were building a house he passed by walking and took a picture of me eating a sandwich—I didn't know he took it."
It was before the days of geotagging and Instagram—photo documentation abounds in 2018. But during the some 40 years Mars was photographing South Kingstown, none of that existed.
"Now we have this collection from this period when no one was ever taking those pictures," Peterson said.
"People in the community are going to find people they know and things in these photographs that they didn't think were ever photographed," he continued. "People weren't walking around with cameras at all at that point."
And with the dates on Mars' photos creeping into this decade, Luke noted it's important to recognize that history need not necessarily mean old.
"History isn't something that just occurred 100 years ago," she said. "It's 50 years ago, 20 years ago—this really helps us to build our collection."
Luke added she's excited to add the photos into the SCHC inventory because people typically connect to photography in a way they don't with other artifacts.
"It's just another way to get people excited about history," she said.
Graham Nye, treasurer of the SCHC board of trustees, flipped through the photo albums, Peterson looking over his shoulder. With the turn of each page, a new guessing game: what year were these photos snapped? What decade? And what part of town is this?
After signing the collection over to the history center, Peterson asked those gathered at the history center Thursday how they remember Mars, who died in 2011 at the age of 71. Everyone seemed to have an answer, and while the response was somewhat varied, there did appear to be a common memory of the man: dressed in a trench coat, quietly walking the streets of South Kingstown, camera in his hands.
Or he would be sitting for hours at the Peace Dale Library. Peterson said Mars would sit often at the library combing through books, studying local genealogy within the pages of old Narragansett Times issues.
But no matter how he's remembered, his memory has survived and through the efforts of the SCHC will continue to survive through the images he left behind.