By: Jared Shanker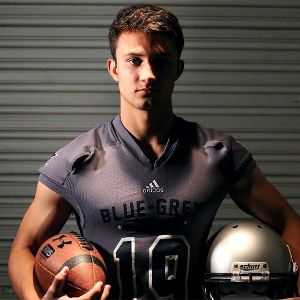 Word travels fast within the small Seminole Tribe of Florida, branching from the Everglades up through the peninsula and navigating around Florida's Big Bend. It's a culture built upon the spoken word, and this year the name Justin Motlow is on the minds and mouths of many tribe members, circulating through the half-dozen reservations.
The tribe is eager to get a glimpse of Motlow. On June 13, he will enroll at Florida State. And when he dons the Seminole logo for his first football practice as a preferred walk-on wide receiver, it will double as an homage to his ancestors, he says. Since Florida State adopted the Seminoles nickname 67 years ago, no known Seminole Tribe of Florida member has played football for the school. Motlow will change that in two months.
"It's always been missing, an actual tribe member playing on the Florida State Seminoles," said Kyle Doney, a tribe member and a liaison between Florida State and the tribe on the Florida State alumni association national board of directors. "There's a lot of hope and excitement from tribe members all across."
Motlow, a 5-foot-11, 182-pound receiver who attends Tampa (Fla.) Catholic High School, is one-quarter Seminole. His paternal grandmother is a 100 percent Seminole and is a resident on the Immokalee Reservation. Clarence, Justin's father, was raised on the reservation and fondly remembers his childhood. Growing up, Clarence hunted alligators — "some by hand," he said — and sold the hides to tourists for a dollar. His grandfather practiced medicine on the reservation, and Clarence still abides by Seminole tradition in keeping secret the tribe's sacred medicine practices.
Clarence calls his son an "urban Seminole," but Motlow and his sister remain immersed in Seminole culture, as the family attends several tribal events annually. Motlow participates in tribal holidays and gatherings, playing skillet toss and working on his archery. In July 2011, he won gold medals in his age bracket in the 200- and 400-meter dashes at the North American Indigenous Games.
"I feel very honored to be able to call myself a tribal member," Motlow said. "There's a lot of heritage and history that goes along with that."
There is a long history between the Seminole Tribe of Florida and Florida State, whose students voted for the Seminoles nickname in 1947. For the past few decades, the relationship between Florida State and the Seminole Tribe of Florida has mostly avoided the negativity that engulfed several other institutions depicting Native Americans as mascots, which makes Motlow's impending enrollment even more intriguing. Both the school and tribe publicize the harmonious relationship, and the tribe's written endorsement of Florida State's use of the Seminole name and logo persuaded the NCAA in 2005 to remove the school from the list of universities deemed to have "hostile or abusive" mascots.
"[The tribe is] quite proud and happy for him, but they're also happy he's getting an education," Seminole Tribe of Florida spokesman Gary Bitner said. "Word travels fast. [The tribe] feels like it's another positive point in the relationship between the university and the tribe. … There is a great sense of pride in the name, and they feel like Florida State has really done it right."
There was a point just a few weeks before signing day on Feb. 5, however, when it seemed Motlow would not be in this position. He already had made peace with the idea that he wouldn't play for childhood favorite Florida State, and wasn't sure he would get a chance to play Division I football. He heard from a few Division II and III schools — programs so obscure he can't remember the names — but even that interest was waning. He suffered a setback before his senior football season started when, on the second day of spring practice, he separated his shoulder. Motlow and his doctors did their best to avoid surgery, but it cost Motlow the entire spring evaluation period and summer camp circuit, pivotal recruiting steps before a prospect's senior season.
With his prospects diminishing, Motlow's father still believed his son could be a contributor on a Division I roster. Clarence Motlow enlisted the help of a friend he knew Florida State would not turn away. Barry Smith, a former Florida State receiver and a member of the Seminoles' 1979 Hall of Fame class, passed Motlow's tape to Seminoles receivers coach Lawrence Dawsey, who after watching it showed it to head coach Jimbo Fisher. Justin Motlow had an offer as preferred walk-on not long afterward, and he committed in late January.
Now he's a celebrity to the 3,963 members of the Seminole Tribe of Florida. Clarence Motlow has been inundated with calls, texts and emails from tribe officials wanting to see his son play, even offering to fly the family to Tallahassee in the tribe's jet. The entire community is behind Motlow's football pursuits, happy he will be the flag bearer for the Seminole Tribe of Florida as it breaks new ground this fall.
"That's true history. It feels really cool to be recognized," Justin Motlow said, "but now it drives me even more to succeed because I can't let my tribe down."