By MATT LEADER
matt@livingstonnews.com
Oct 28, 2020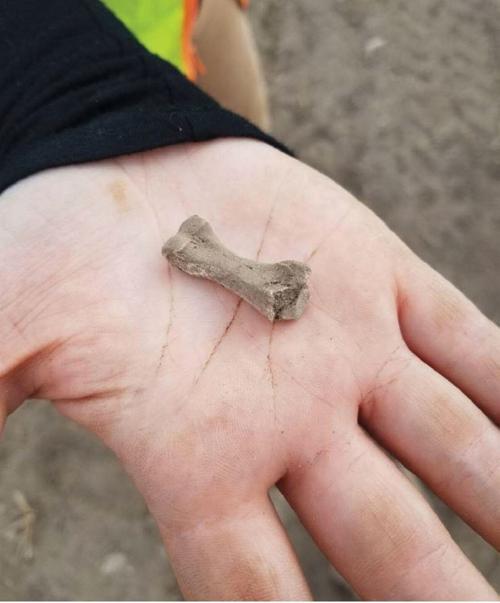 RUSH – The President of the Seneca Nation of Indians is asking the solar developer behind the Horseshoe solar array in Caledonia and Rush to "cease and desist" all activity so it can investigate whether a bone recovered during an archaeological investigation survey is human.
In an Oct. 22 letter to Invenergy, the Chicago-based developer behind the 1,400-acre, 600,000-panel solar proposal, Rickey L. Armstrong Sr., President of the Seneca Nation of Indians, said the bone was found during the company's Phase 1B cultural resources survey.
"The integrity of our sacred sites must be protected at the eternal resting places of our ancestors, not simply plowed over in the pursuit of economic gain," said Armstrong in a subsequent statement on Facebook. "First and foremost, it must be determined whether the bone that was discovered on site is a human bone. If so, and our experts believe that is the case, there is a possibility that other human remains may be exposed if work continues."
As part of its obligations under the state's Article 10 process, which governs how large scale energy generation facilities, like Horseshoe Solar, are developed in New York, Invenergy is required to conduct studies into the presence of historically significant sites in the areas where it would construct its solar array. Invenergy hired Panamerican Consultants, an archaeological investigations firm with an office in Buffalo, to conduct the surveys.
"It has come to the Seneca Nation's attention that there is a possible discrepancy in the identification of a bone found during a Phase 1B cultural resources survey," Armstrong wrote in his letter. "…It has been reported that the consultant who arrived on scene determined the bone to be human, only to reclassify it as heron."
Armstrong wants the company to stop what it's doing until the origins of the bone can be definitively established.
"We ask Invenergy to return to the location where the bone was documented and try to locate and properly identify the bone in cooperation with the Seneca Nation," wrote Armstrong. "If it is determined to be human, we require Invenergy to properly secure the location, ensure the integrity of the location, and facilitate reinternment of all exposed remains with the participation of the descendant communities."
According to records provided by an Invenergy spokesperson, the company's consultants commissioned analyses of the bone and others it was found with in agricultural fields near 250 Golah Rd., Rush, from two specialists.
The first was Marie-Lorraine Pipes, a zooarchaeologist and adjunct lecturer of anthropology at SUNY Geneseo, who examined the bones Sept. 30 and concluded they were non-human. One of the bones Pipes examined was a large phalange, or toe bone.
"I initially thought it might be a large bird, such as a heron," Pipes wrote in her Oct. 15 report. "After further consideration, I now believe it to be a bear proximal phalange. The bones that form the hand and foot are quite similar between bear and human. They are often confused because they share certain morphological features."
Pipes also noted the area where the bone was found – buried with other bones from cows that bore marks of butchery – suggest it isn't human and that the bones were buried together at some point in time by a human.
The second specialist was Thomas A. Crist, a forensic anthropology consultant and professor of anthropology and anatomy at Utica College, who conducted his examination of the bones on Oct. 12. Like Pipes, Crist concluded all the bones were non-human. Like Pipes, Crist noted some of the bones bore signs of butchery, like cut marks and cut edges.
Crist noted the shaft of the phalange in question was slimmer for its length than in most human phalanges and that its proximal articular surface exhibited a low ridge, which is different the smooth articular surfaces seen in human phalanges.
"These anatomical features are inconsistent with human phalanges," Crist wrote.
The Seneca Nation commissioned an analysis of its own from Robyn Wakefield-Murphy, an assistant professor of anatomy at New York Chiropractic College.
Wakefield-Murphy concluded the bone is of human origin "due to the lack of diagnostic features of bear phalanges and anatomical similarities to modern human anatomical specimens of foot phalanges."
In addition to the bone, Armstrong also voiced concerns about "artifact collectors" looting burial and other culturally significant sites after Invenergy's consultants are done surveying them and asked the company to develop a no-trespassing policy and hire a tribal monitor to be on location for the duration of consultants' surveying project.
"We believe the presence of Panamerican doing their survey is drawing the attention of looters," Armstrong wrote. "We know there are numerous burials and cemeteries in the area and we do not want their resting places compromised and desecrated."
Kate Millar, project development manager for the Horseshoe Solar Farm, said last week that Invenergy is "constantly in communication" with the Seneca Nation and has had discussions with members following Armstrong's letter.
Asked if the Senecas were satisfied by the two analyses, Millar said "I don't know that yet."
"These are two of the very best experts in the state," she said of Pipes and Crist. "… conclusively, those reports have said this is an animal bone in the context of a farm field."
Millar said Invenergy hasn't had any issues with looters yet but that it's withholding information about the exact location of survey sites to make it harder for would-be looters to loot them.
"That a fear at this point," she said. "… keeping those areas protected is an important piece for both us as well as the Nation."
Neither Armstrong or Carson Cooper, deputy general counsel for the Seneca Nation who representing the nation in the matter, responded to requests for comment last week.