Seneca Nation opposes Epiphany plan: 100 protest proposed wastewater facility at Coudy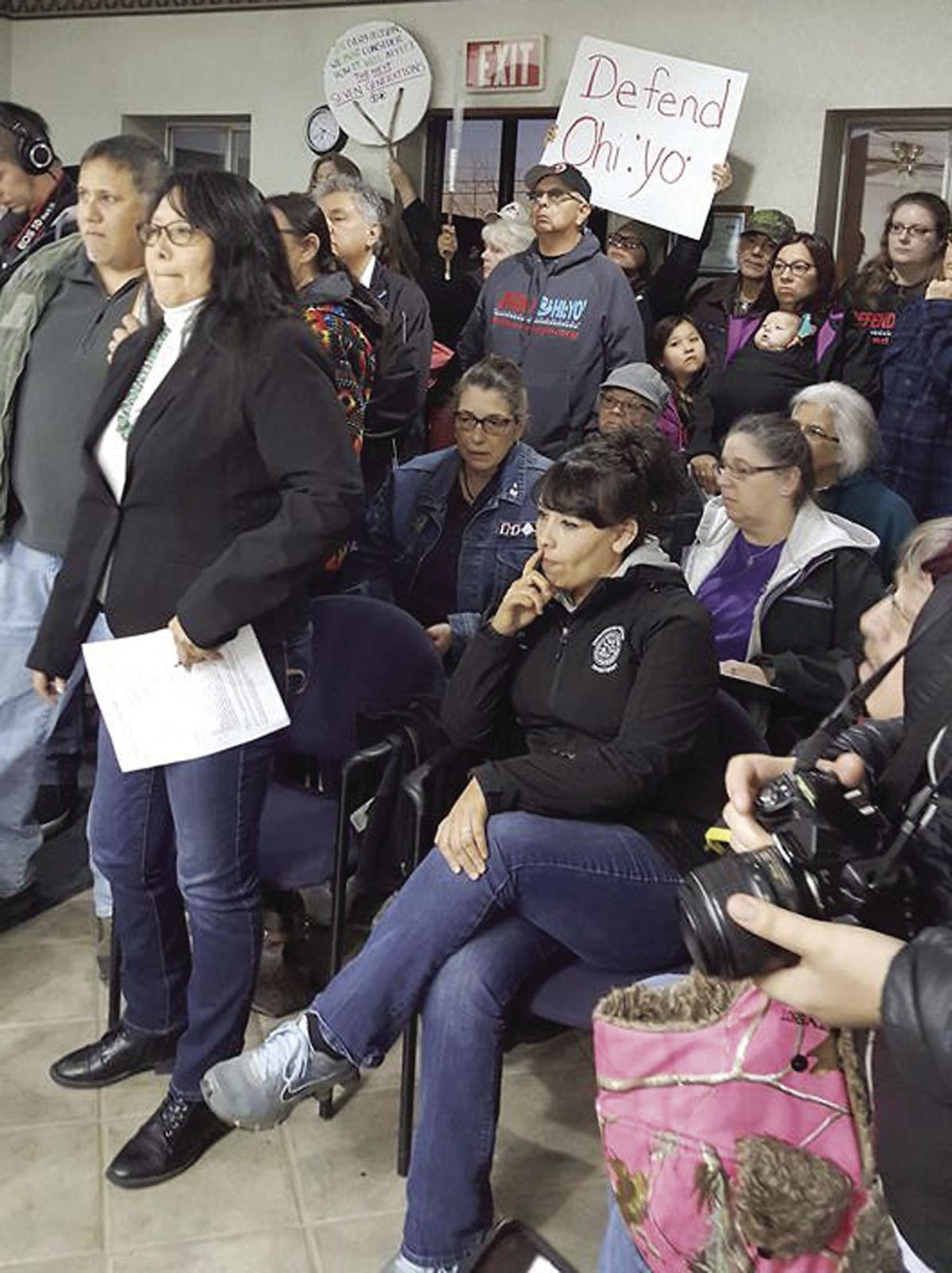 COUDERSPORT – It was standing room only for those at the Coudersport Area Municipal Authority's Feb. 26 meeting. More  than 100 people attended in protest of the proposed Epiphany Water Solutions  fracking wastewater treatment facility at the Authority's sewer plant.
Outside the meeting room, members of the Seneca Nation, Coudersport residents and others brandished signs and shirts with statements in opposition to fracking and Epiphany's plan, held drum circles and chanted.
Those inside took turns speaking out against the facility. Seneca Nation is calling on the Pennsylvania Department of Environmental Protection and CAMA to reject permit applications for a water quality management and discharge plan at the headwaters of the Allegheny River in Potter County.
CAMA secretary Bev Morris said the board is also wary.
"This isn't a decision members of CAMA take lightly," Morris said. "We all want clean water, that we're certain on."
She said that the permitting process would take a considerable amount of time if approved completely, or could die at the hands of DEP.
Epiphany CTO Thomas Joseph said the Seneca Nation received inaccurate information, and said the planned water treatment facility in Eulalia Township would have no impact on the waterway.
"Epiphany has tremendous respect for the great Seneca Nation and we are aligned with them in their mission to preserve and protect our precious environment," Joseph said.
Seneca President Todd Gates called for officials to deny the plan which he said would release thousands of
gallons of "dangerous wastewater from hydraulic fracturing" into the Allegheny.
The Seneca's Allegany Territory is located 65 miles downstream from the project. The Allegheny flows from its headwaters in Potter County through McKean County and into New York state near Portville. The river flows through Olean, N.Y., and Allegany west to the Seneca territory and Salamanca, N.Y., then turns south.
"Allowing this plan to move forward would permit poisonous contaminants to travel downstream into New York and onto the sovereign ancestral lands of the Seneca Nation, which sit upon the Ohi:yo (Allegheny River)," Gates said. "We will zealously defend and protect what remains of our territories and our natural resources, which would be further threatened by this dangerous plan."
Epiphany president Mike Broeker, said the filtration system results in water that is clean enough to drink.
"The wastewater from your home is more hazardous than Epiphany water," Broeker said. "The Epiphany System has automated fail-safe mechanisms to prevent any accidents or
errors. Epiphany has proven technology with thousands of hours of rigorous field testing."
Epiphany seeks to treat wastewater created by fracking – a practice is not permitted in New York State nor authorized on Seneca Nation lands – to be transported to the CAMA wastewater plant in Eulalia Township, treated and released into the Allegheny system, said Seneca spokespersons.
The proposed treatment facility would discharge up to 42,000 gallons of treated frack water, although the plant can process between 20,000-80,000 gallons daily. Protesters raised concerns about insufficient removal of radioactive materials that would enter the river.
Opponents say water used for fracking in Pennsylvania contains high levels of radioactive material. Earlier this year, a Duke University researchers found high levels of radium in fracking wastewater that was discharged into tributaries and the Allegheny River in Indiana County.
The Seneca president contends that during extreme high water events, which are a regular occurrence in the region, contaminated sediment from the facility will be transported and deposited downstream, ultimately accumulating in the Allegheny Reservoir in Seneca territory.
Further, Gates argues, the proposed treatment facility would be located in a 100-year floodplain. In the event of a flood or spill, untreated hazardous and radioactive material stored on-site could be released directly into the Allegheny.
But Joseph said that the facility would be designed to withstand a 100-year flood without any release of wastewater, solid waste or even clean water.
"Epiphany's facility will cause zero negative effects on the Allegheny River, zero effects on groundwater, and a substantial reduction of overall air emissions," he said. "Our company plans to invest over $1 million in a new facility that will create jobs, benefit the citizens of Potter County, and will help create a cleaner environment for all of us."
The Nation is calling on New York state, communities between Eulalia Township and the Nation's Allegany Territory and the U.S. Environmental Protection Agency, Department of the Interior and Army Corps of Engineers to halt the proposed activity.
"There is no proven technology that allows for the complete treatment of wastewater from fracking, particularly in the Marcellus shale region," Gates said. "Allowing this project to move forward would be a reckless assault on Mother Earth, the resources of the Ohi:yo, the health of thousands downstream, and future generations."
That couldn't be further from the truth, Joseph said.
"Distillation technology is the only absolutely and irrefutably proven means of effectively and completely treating oil and gas wastewater," he said.