Seneca Nation, others fire back against cease and desist letters on Epiphany fracking wastewater treatment project
By BOB CLARK, Olean Times Herald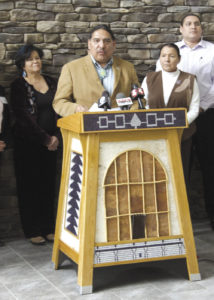 Seneca Nation President Todd Gates (at podium) addresses concerns over construction of a hydro-fracturing wastewater treatment plant on the Allegheny River during a press conference March 21. Gates said the Seneca Nation of Indians would not be "bullied into silence" after he and others received cease and desist letters from an attorney representing Epiphany Water Solutions, the firm planning to build the facility.
SALAMANCA — The Seneca Nation of Indians and others receiving cease and desist letters in connection to opposition of a proposed Coudersport, Pa.-based hydraulic fracturing waste treatment site vowed Wednesday not to back down.
"We have concerns about the impacts the project could have on the water quality of the Ohi:yo', or Allegheny River — impacts that we and many others could be left to live with for generations. We are not alone in voicing those concerns, and we will not be bullied into silence," Seneca Nation President Todd Gates in a press statement Wednesday. "Let me be clear: the Seneca Nation does not believe the project should move forward."
The SNI and others received cease and desist letters from Amy Joseph Coles, an attorney with Blank Rome in Pittsburgh representing Epiphany Water Solutions, the firm planning a $1 million plant to treat fracking wastewater on Coudersport Area Municipal Authority-owned land near the Allegheny River in Eulalia Township.
"We've seen the actions of other governments tear at our land, our culture and threaten our resources before. It's happened throughout our history, from Buffalo Creek to Kinzua to Cattaraugus Creek," said Gates, who was one of almost three dozen speakers voicing opposition to the CAMA board on Monday. "The river is part of our territory, just as it is part of the lives of many people from New York and Pennsylvania. We have grave concerns about the Epiphany project and will give full voice to those concerns as long as the project is under consideration. We won't be washed away."
The letter to Gates, dated March 24 and provided to the Olean Times Herald by the SNI, accuses the nation of promoting falsehoods that have directly affected Epiphany's business.
"(Y)ou and the Seneca Nation of Indians … have made and continue to make repeated false, destructive and defamatory statements about Epiphany and the Epiphany Allegheny wastewater treatment facility," Coles wrote in the letter.
Coles stated the SNI and others have sought to imply that the Epiphany facility will directly leak radioactive material into the river, noting that such a discharge would be illegal and is the antithesis of the project's purpose.
"The Seneca Nation's defamatory statements have injured Epiphany and its reputation in the following ways, including but not limited to: increasing the time for approval of its permit application, interference with and loss of at least one known customer, and lost business," she wrote, demanding the SNI remove statements from the internet, issue retractions to the media and cease further comments. "If you fail to do so, my client is prepared to pursue all available legal remedies, including seeking injunctive relief, monetary damages and attorneys' fees."
In the nation's response, outside counsel Donald Pongrace of Akin Gump wrote that "the Nation has no intention of ceasing or desisting, but rather is likely to expand its efforts in opposition to your client's project in the coming weeks and months.
"Unlike others you may have tried to bully with such a letter, the Nation is very well aware of the rights and privileges it enjoys as a Sovereign Nation under the U.S. Constitution, is not intimidated in the slightest, and stands prepared to aggressively defend its fundamental rights to petition the government should your client make the mistake of testing the Nation on this point," Pongrace wrote.
"If you feel to take the next step in what you will find to be a path far more difficult than you may have imagined when you sent out this letter, I look forward to hearing from you."
Others who have received letters have also said they will continue their opposition to the project.
"These letters are a cowardly attack in violation of Pennsylvania's Anti-SLAPP statute," said Joshua Pribanic, a documentary filmmaker who Epiphany announced Monday was a recipient of a cease and desist letter. "The letter from Epiphany CEO Tom Joseph and Blank Rome reads like a conspiracy theory, accusing Public Herald of running the website defendohiyo.org — we do not — and of dismissing scientific data. What scientific data? We've yet to see even one study about the efficacy of Epiphany's technology at a large-scale discharge facility."
Melissa Troutman, a co-director of a documentary on fracking issues in Potter County with Pribanic, said she was ordered to cease statements calling the water from wells "toxic waste."
"Trying to paint fracking waste as non-toxic is deceptive and dangerous," said Troutman, a co-director of a film on fracking in the county with Pribanic. "The letters we received from JKLM Energy and Epiphany Allegheny are an attempt to silence us. That's never going to happen."
Beginning in 2016, the state Department of Environmental Protection has mulled approving a 1,000-barrel-per-day facility proposed by Epiphany. The site would serve as a primary fracking wastewater disposal site for the gas drilling industry in Potter County, including JKLM Energy LLC, which has extensive drilling operations in Potter County and has supported the project.
JKLM Public Relations Coordinator Kelly Seward, while confirming earlier Monday that the firm will be a primary user of the facility, declined to comment if the firm was backing the project financially.
JKLM, based in Sewickley, is owned by Terry Pegula, owner of the Buffalo Bills and the Buffalo Sabres. In 2016, the company agreed to pay a more than $470,000 civil penalty for groundwater contamination resulting from drilling of a natural gas well; six private drinking water wells were contaminated in Sweden and Eulalia townships in September 2015.
Seward confirmed Wednesday the company issued several cease and desist letters, though she did not state who received the letters or the content of the letters sent out.
"JKLM Energy LLC is respectful of the right of individuals to hold and express their opinions," she said in a statement, "however, we will not tolerate individuals who make statements that mislead and confuse the community about our company and our activities, whether directly or by innuendo."