White House aligning with Indian Country
February 3, 2014
For Immediate Release
For more information Contact:
Brandon Stephens, Development Director
(615) 467-1560
bstephens@usetinc.org
(Washington, DC) – – Since the birth of the nation, the Office of President of the United States has dealt differently with American Indians and Native Alaska citizens. During the Obama Administration
Indian Country leadership has had opportunity to be more engaged with federal policy and law making than most presidential administrations in recent times. White House Senior Policy Advisor for Native American Affairs Jodi Gillette explains the administration works to align itself and balance with the needs for Indian Country and Presidential executive authority is allowed to provide to Tribes. Gillette's position along with White House Office of Public Engagement Deputy Associate Counsel Raina Thiele (a position formerly held by Charles Galbraith) work to facilitate Indian Country input on legislation and uphold the trust responsibility the federal government has promised to Tribes.
The Obama administration has taken strides to uphold the trust responsibility by creating positions in the administrations like Jodi and Raina's as well as the White House Council on Native Affairs, and moving cabinet secretaries to engage and consult Indian Country. "My role is completely the invention of this President (Obama). My role really is to advise the President and the senior staff on Native American needs, issues, and challenges. That is something that had never existed before," Gillette explained to the USET Board of Directors. During the Clinton Administration there were staff members that had a strong voice for Indian Country, which were the beginning of staff members in the White House.
Another creation by President Obama was the White House Council on Native Affairs, which works to solidify the role of the White House on developing policy for the whole administration to deal with American Indian issues. "We're working on the best mechanism to make sure Tribal leaders have a voice in that process. The council itself was developed based upon a loose working group, which was part of the Clinton Administration," Gillette continued.
White House aligning
Page Two
After the committees and councils have been established, the real work begins. How does the White House digest all of the comments and fill the needs of Indian Country? The White House has worked diligently to listen and consult with Tribal leadership. Gillette told USET, "When the federal government receives those comments we have a job to do. We have to make sure we can make it fit within the confines of what our attorneys says is possible. It has to fit and align with other things that may or may not support what Tribes are saying. That has been my role to find ways to be aligned with Tribes within the (Obama) Administration."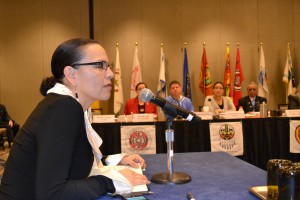 There have been many hours placed on processing comments for various efforts like the U.S. Department of Interior's policy for consultation with Indian Country. Tribal leadership like USET President Brian Patterson and others helped make that process smooth according to Jodi. "I have worked with him (Brian Patterson) closely. I don't think I have publicly ever said how many hours your president (USET President Brian Patterson) put into helping the (U.S.) Department of Interior develop its consultation policy. And that was something that is pretty much one of a kind. I don't think we have ever had Tribal representative sitting at the table every step of the way. I think that we just want to acknowledge how many hours he's been putting into making sure that the consultation policy and the work we are doing, as we (The White House) is asking for input, that the input is meaningful. I learned a lot from your president. I know the people I worked with also learned a lot and he (Brian Patterson) got a window into what happens when we get comments in the administration," Gillette said in praise of USET's contribution to developing policy.
Even though the White House held a conference in December 2013, the work does not stop there. The Obama Administration has been maintaining engagement with Indian Country is various methods. During the 2014 Impact Week meeting the White House will hold a Tribal leadership conference call, continuing outreach to Tribes for raising awareness on economic development, rural development, domestic violence and sexual assault, and climate change are major issues the White House is giving a helping hand to Tribes.
Gillette thanked USET for its work to help rebuild Tribal nations saying, "I want to congratulate you (USET) for so many years of advocacy. I've worked with many of you on different topics throughout the years. I just wanted to make note of how many of you (USET Tribal leaders) have been very instrumental to what we have been able to accomplish in the (President) Obama Administration." Gillette added, "I am not going to deny that things aren't perfect in Indian Country. There is still a lot of need. There are still a lot of difficult issues we face when it comes to being able to develop Indian Country economies, educate children, being able to deal with some of the climate change needs."
###
"Because there is strength in Unity"