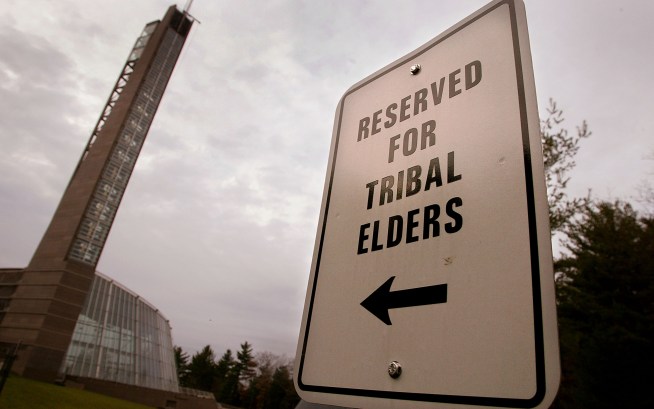 MASHANTUCKET, CT – NOVEMBER 21: A parking sign reading "Reserved For Tribal Elders" stands outside the $193 million Mashantucket Pequot Museum and Research Center November 21, 2002 in Mashantucket, Connecticut. The museum and Foxwoods Resort Casino are owned and operated by the Mashantucket Pequot Tribe which is a federally recognized Indian nation. Foxwoods is the largest resort casino in the world with 315,000 square feet of gaming space in a 4.7 million square foot complex. (Photo by Mario Tama/Getty Images)
A state official says Connecticut is close to reaching agreements with the Mashantucket Pequots and Mohegans to expand the authority of their tribal police departments.
A law that passed last year authorized the Department of Emergency Services and Public Protection to give tribal police law enforcement powers, including at the tribal-owned casinos. But the tribes have to agree to recognize and follow state laws.
Mike Lawlor, the state's undersecretary for criminal justice policy, said Tuesday that the state and tribes are working on final drafts of the agreement. He said discussions have been held up by personnel changes but there are no major disagreements.
By winning authority to carry out tasks typically reserved for state troopers, the tribes reduce the need for state agents at the casinos where their salaries have to be covered by the tribes.