'To lift up the voices'
Racial justice group, Tomaquag Museum partner for pop-up exhibit exploring privilege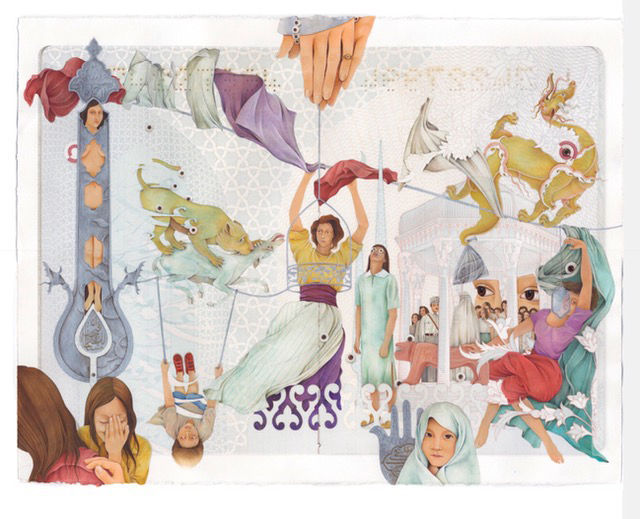 A pop-up exhibit opening Friday at Hera Gallery will ask viewers to contemplate the various forms of privilege that exist within their lives.
Entitled "Where's Your Privilege, R(ace) I(dentity)?," the show is a collaboration between the South County chapter of Showing Up for Racial Justice and the Indigenous Empowerment Network of the Tomaquag Museum in Exeter.
The show will feature art made by people of color in Rhode Island and include an interactive installation. An opening reception will be held Friday from 6-8 p.m., and two events will coincide with the show – an indigenous storytelling event Saturday at 1 p.m. and a spoken word event with Christopher Johnson of Providence Jan. 28 from 1-4 p.m. The exhibit will be on display at Hera, 10 High St., Wakefield, through Jan. 28.
Lynsea Montanari, a member of the Narragansett tribe and the museum educator at the Tomaquag Museum, will lead the storytelling event, which will feature stories from the Eastern Woodlands people and reflect on how all walks of life hold a certain amount of privilege. Her artwork "Who Owns the Water" is also part of the exhibit.
In her biography description submitted for the show, Montanari writes: "I'm all about breaking down stereotypes of what indigenous art looks like and what indigenous people look like, while still incorporating elements of my culture specifically. I feel too often as indigenous people and an indigenous artist we are grouped together and expected to be and have one identity."
The idea for the show stemmed from conversations between Samantha Cullen Fry, Billie Wilbur and Danielle Starkey. Cullen Fry is the communication and documentation coordinator for the Tomaquag Museum's Indigenous Empowerment Network, and Wilbur and Starkey are organizers of the local chapter of SURJ.
The mission of the Indigenous Empowerment Network is "to eradicate poverty in the Indigenous Community of Rhode Island through education, cultural competency, job training, and employment, at the Tomaquag Museum and our ever-expanding network of partners." The museum, through Cullen Fry, serves as an accountability partner for the local chapter of SURJ, which was founded in Peace Dale in June.
Showing Up for Racial Justice was founded at the national level in 2009 in response to leaders of color asking white individuals to speak up and act against racism. Through a nationwide network of chapters, members seek to support organizations led by people of color, end white support for white supremacy and create a more racially just world.
This is the first major event planned as a collaboration between the South County chapter of SURJ and the museum. Cullen Fry said she has been attending SURJ meetings, and members of SURJ have been attending events at Tomaquag, and that they decided to collaboratively host an event around art and education, with a focus on the impact of art in the indigenous community and a goal of creating conversations around the idea of privilege.
Cullen Fry described the show as "artivism" – art activism – and said it will mainly feature works by people from marginalized communities. Each artist, she said, was asked to write a statement about how they hold their own privilege, and how other people hold their privilege.
"I got excited just over the ones I got to see," Cullen Fry said of the artwork she had seen thus far. "I think this can be a very powerful couple of weeks. [I'm] excited to see what else comes from it."
Wilbur described the exhibit as "focusing on local artists of color and helping them pose questions of privilege through their art." Last week, she collected artwork from about a dozen artists around the state, including a group of incarcerated women, whose work she said is "really powerful."
"[The] questions [and] life experiences people will be exposed to from the variety of work being presented is pretty powerful stuff," Wilbur said. She hopes attendees "will begin to consider what privileges they hold in their own life, and examine privilege in our society – who holds it?"
Wilbur, who lives in Narragansett, said the idea behind accountability partners is to ensure that members of SURJ are held accountable to their mission of supporting organizations led by people of color. "Our job," she said, "is to do a little less talking and a lot more listening."
"Our primary purpose," Wilbur added, "is to lift up the voices of women of color, artists of color, and make sure they are heard."
For more information about the South County chapter of SURJ, visit its Facebook page, "South County SURJ," or email SURJRISC@gmail.com. The group holds a meeting the first Sunday of the month for organizers, and an open meeting the third Sunday of the month. Because of the events planned in conjunction with the exhibit, the next formal meeting will take place in February.