Video Of Deb Haaland Presiding Over The House Is A Profound Moment In History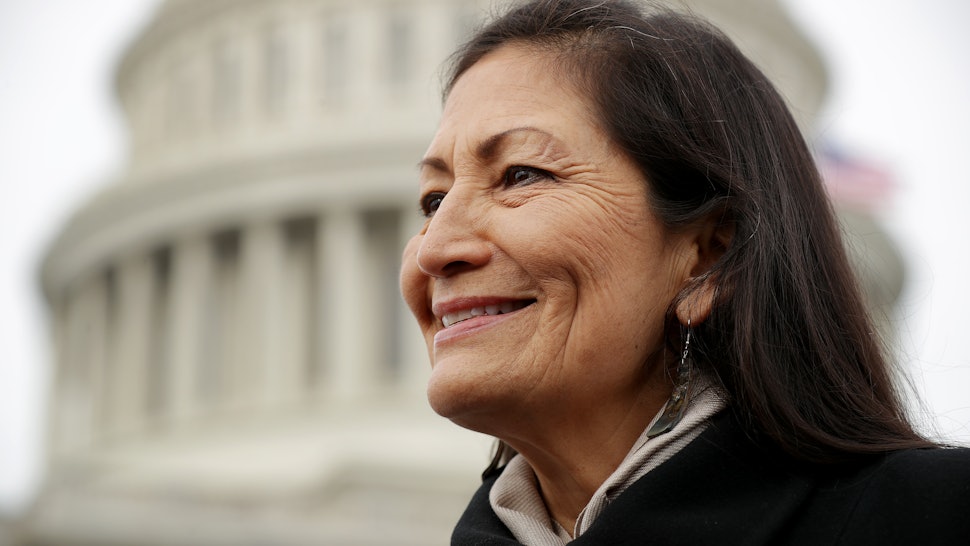 Chip Somodevilla/Getty Images News/Getty Images
It was the first time in United States history that an indigenous woman sat in the House Speaker chair. Rep. Deb Haaland, made history on on Thursday when she chaired a debate on legislation concerning voting rights and campaign funds, according to The Hill.
Haaland, a New Mexico Democrat, moderated the debate by allowing various lawmakers to step forward and make their arguments on the subject. Prior to the debate, she tweeted out to her followers, "You can watch the first time a Native American woman has sat in the Speaker's chair." In an official statement to The Hill, Haaland's office noted, "Congresswoman Haaland will preside over the House Floor during debate of the For the People Act, transformative legislation that seeks to end corruption in politics and ensure fair access to the ballot box."
Haaland was one of the first two Native American women elected to the Congress in 2018; she was joined by Rep. Sharice Davids, a fellow Democrat representing Kansas.
"Watching my friend, @RepDebHaaland, become the first Native American woman to sit in the Speaker's chair and preside over the House Floor. #RepresentationMatters," Davids tweeted on Thursday. Here's a brief clip of Haaland's historic moment in the House.
92 people are talking about this
It might be the first time that you're reading "#IndigenizeCongress" but according to Haaland's tweets, she's been on that mission for a while now. In February, the representative retweeted a photo of her with an traditional embroidered blanket on her seat at the State of the Union, which included the text, "SHE SAVED HER SEAT WITH A BLANKET."
"Yes, I did. #IndigenizeCongress," Haaland tweeted at the time, which elicited an outpouring of support from her many Twitter followers.
In November, Haaland wrote in Fortune magazine why it was important for more Native American voices to be represented in Congress. "Representation matters," the Democrat wrote. "Growing up in my mother's Pueblo household, I never imagined a world in which I would be represented by someone who looked like me."
"That might be because just over 50 years ago, Native Americans in New Mexico couldn't vote," Haaland went on to write. "It also might be because when I was young, people didn't even think girls could play sports, let alone run for office."
With more voices like hers and Davids' on Capitol Hill, Haaland wrote in Fortune that Congress would be able to accurately represent the interests of Americans across the country.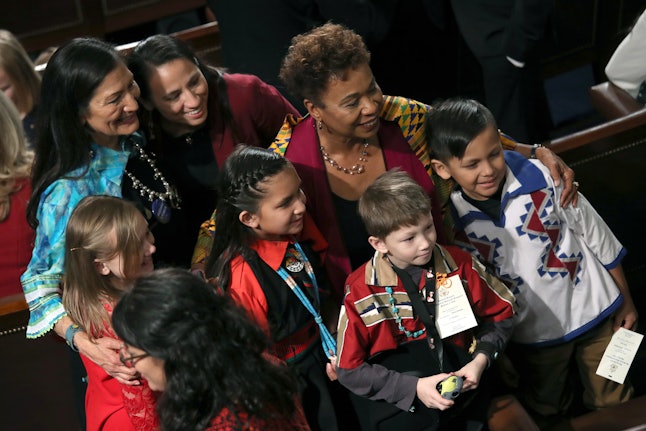 According to her office, Haaland's past expertise gave her a grasp of the voting rights and campaign finance legislation on the House floor. The New Mexico Democrat's office told The Hill, Haaland was a "long-time organizer who has worked to increase access to the ballot box in New Mexico and particularly in Indian Country and rural areas for nearly twenty years."
On Thursday, Haaland told KRWG about her groundbreaking moment and what she hoped it would relay to others. "When a young woman of color sees me in the Speaker's Chair, I want them to think 'I can do that,' that's part of why I'm here," Haaland said. "I want to help those who have not been represented before to identify with me and identify with Congress. It's their Congress too. It belongs to all of us."