By: Darlene M. Donohue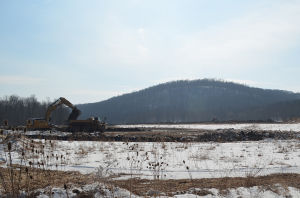 CUBA — Ground was broken recently near the Seneca One Stop by Cuba Lake, a sign that construction of the proposed casino for that site is underway.
A secretary from the Seneca Nation of Indians president's office confirmed that crews who are working at the site along North Cuba Lake Road this week are clearing the grounds for the development of a gaming facility. The representative said additional details will be revealed about the work being done during an event that will be held at the construction location once the casino's skeleton is completed in mid-April.
In November, the Seneca Nation announced its plans to create a Class II casino on the plot of land neighboring the Seneca One Stop in the Oil Spring Indian Territory.
The casino, which would contain only slot machine gaming, would be located 37 miles northwest of the Seneca Allegany Casino & Hotel in Salamanca, also operated by the Seneca Nation.
Town of Cuba Supervisor Barb Deming, during Monday's board meeting, said she hasn't received any information from the SNI regarding any part of the casino project.
"It seems they talk to everyone else but us," said the supervisor. She said the only time she's ever heard from the Seneca Nation was when they opted to help pay for a sewer line extension through the reservation after the One-Stop was built, which was more than three years ago. The supervisor added the Seneca Nation would have to get permission and pay the municipality if it wanted to use its sewer district.
Mrs. Deming is interested in learning about the construction project since there are potential costs to the town once the facility is in operation.
"If there is an emergency or accident at or near the casino, they'll call our fire, ambulance and police departments. That will cost us money," she said. "For humanitarian reasons, we can't say we won't answer their calls if they need our services."
Mrs. Deming said Greater Cuba Chamber of Commerce President Lee James and herself are trying to set up a meeting with the Seneca Nation.