2014 USET Impact Week Speakers and Presentations
---
2014 USET Impact Week USET President Brian Patterson's Opening Comments
Our hearts, minds, and bodies should be nourished by the great activity and success USET has witnessed this year for Indian Country, our Tribal members, and the organization.  It is my firm belief our high level of consciousness and interaction with the world around us has sustained our Tribal Nations.  USET's contributions to rebuild, strengthen, and promote Tribal sovereignty must.  As Tribal leaders it is not our responsibility to achieve this by walking in the moccasins of previous leadership.  Rather, we walk in our own moccasins paying respect and honoring to the legacy they built for us.  With the good heart, body, and spirit we move forward striving for unity; educating everyone about American Indian culture, challenges and success; and working as advocates developing healthy Tribal Nations.
2013 was a great year for USET to build alliances with Tribal leaders, national policy makers, organizations, institutions, and with individuals to increase our strength to advocate and educate.  The reauthorization of the Violence Against Women Act (VAWA), Tax Initiatives, and amendments to the Stafford Act are some examples of legislation which requires our Tribal Nations to develop new approaches to law enforcement, economic development, and public safety.  It is through the strategic alliances and partnerships USET will be able to provide the platform for gaining access to resources for training, technical assistance, funding needed to assist its Tribal members.
Educating the world about American Indian Tribes and advocacy remain priority for USET.  USET continues to support educating the public and policy makers on American Indian culture and issues.  USET must continue to educate policy and law makers about our culture and traditions, successes, and challenges so appropriate and effective decisions are being made.
During this year we have suffered losses to our USET family and welcomed new leadership.  We have mourned the passing of great leadership like Tunica-Biloxi Chairman Earl Barbry, Sr. and Chitimacha Tribe of Louisiana Tribal police officer Sergeant Rick Riggenbach.  We have been honored Tribal leadership whose service will be felt by the next seven generations and beyond.  We also welcome newly elected Tribal leadership and the presence of USET's newly formed Youth Leadership Council, co-chaired by Taloa Berg (Mississippi Band of Choctaw) and Nicodemus Bushyhead (Eastern Band of Cherokee Indians).
As we move forward, I am encouraged by our USET leadership's participation, actions, and shared vision for this organization.  Tribal leadership and members of the general public should be very confident this organization will succeed as we have a highly skilled and experienced staff to implement the organization's long term strategic plan, which supports the mission to increase the capacity to build strong and healthy Tribal Nations, which is the cornerstone of promoting sovereignty.  In my closing thoughts I am reminded of a quote from futurist Joel Barker, "Vision without action is a dream.  Action without vision is simply passing the time.  Action with Vision is making a positive difference." Together we will grow Stronger and Transcend the challenges facing our Tribal Nations.
White House Domestic Policy Council – Jodi Gillette and Raina Thiele
Since the birth of the nation, the Office of President of the United States has dealt differently with American Indians and Native Alaska citizens.  During the Obama Administration Indian Country leadership has had opportunity to be more engaged with federal policy and law making than most presidential administrations in recent times.  White House Senior Policy Advisor for Native American Affairs Jodi Gillette explains the administration works to align itself and balance with the needs for Indian Country and Presidential executive authority is allowed to provide to Tribes.  Gillette's position along with White House Office of Public Engagement Deputy Associate Counsel Raina Thiele (a position formerly held by Charles Galbraith) work to facilitate Indian Country input on legislation and uphold the trust responsibility the federal government has promised to Tribes.
Click here to listen to comments from White House Senior Policy Advisor for Native American Affairs Jodi Gillette.
U.S. Department of Interior- Assistant Secretary, Indian Affairs- Kevin Washburn

I
ndian programs in the U.S. Department of Interior Bureau of Indian Affairs may have received a boost in the 2014 budget compared to 2013, but some issues are still lingering to place a strain on this year's financial resources says Assistant Secretary, Indian Affairs Kevin Washburn.  Washburn told USET's Board of Directors during the 2014 Impact week the federal government has restored Indian programs to the 2012 funding level, which is greater than the 2013 budget that was slashed five percent across the board.  Congress has asked Interior to provide contract support costs to Tribes, protect Indian education programs in addition to some increases, guard general welfare programs, increase Housing Improvement, and continue with law enforcement efforts.  Washburn says these marching orders came from Congress and Tribes without the assistance of additional federal funding.  "So if we fully fund contract support costs we have to get that money from somewhere.  We will have to find the money in the budget and we are going to have to move things around a bit," Washburn explained.  It is expected the 2015 draft budget for Indian programs will be released on March 4, 2014.  Washburn concluded with updates on Fee into Trust property issues, review of Tribal gaming compacts, and the recently released Bureau of Indian Affairs 2013 American Indian Population and Labor Force Report.  Assistant Secretary Kevin Washburn was also joined by U.S. Department of Interior Chief General Counsel Hilary Tompkins.
Click here to listen to Assistant Secretary, Indian Affairs Kevin Washburn speaking to the USET Board of Directors at the 2014 Impact Week Meeting in Washington, D.C.

Indian Health Service – Dr. Yvette Roubideaux
Tribal leadership has been requesting Congress hold Indian budgets harmless to sequestration and financial challenges the federal government faces.  One area of great concern has been the Indian Health Service budget.  Director of Indian Health Service Dr. Yvette Roubideaux provided an update to many vexing issues and concerns for the budget, operational plans, and other challenges.  Dr. Roubideaux was also joined by Director of the Nashville Area Office Martha Ketcher.
Click here to listen to Dr. Yvette Roubideaux's Comments.
U.S. Small Business Administration (SBA) –Chris James
USET and the SBA have signed a Strategic Alliance Memorandum (SAM).  The SAM, signed on February 4th, is design to create a clear partnership between USET and SBA to help bring resources to promote business development, job creation, and eventually the promotion of healthy well developed communities.  SBA Office of Native American Affairs Assistant Administrator Chris James was on hand to sign the SAM with USET President Brian Patterson.  The SAM is also signed by Deputy Assistant Administrator Mina Wales.  Chris James was also accompanied by Associate Administrator John Shoraka who is responsible for overseeing the umbrella office with jurisdiction over the offices of size standards, government contracting, HUBZones, and 8(a) certifications.
Click here to listen to SBA Office of Native American Affairs Assistant Administrator Chris James speaking to the USET Board of Directors during Impact Week 2014 in Washington, D.C.
Senate Committee on Indian Affairs:
Staff Dir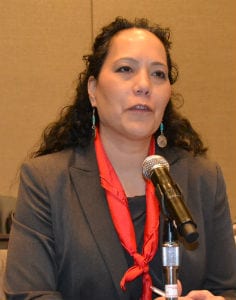 ector Mary Pavel an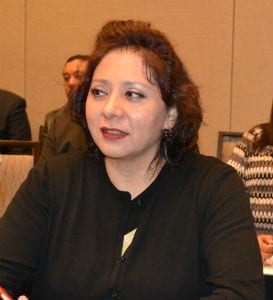 d Deputy Chief Counsel Rhonda Harjo provided some general updates on the Senate Committee on Indian Affairs (SCIA) work with the Indian Budget, Housing Bill and Farm Bill during the 2014 USET Impact Week Meeting.  Pavel explains has a few priorities on energy, education, and healthcare.  Pavel says SCIA appreciates USET's work to help with each issue adding, "Your prayers to be quite frank are absolutely necessary because this is hard legislating.  The founding fathers made this hard and this is hard."  SCIA Deputy Chief Counsel Rhonda Harjo also commented USET always has an open door to the committee.  "We (SCIA) always appreciates the bipartisan work you do with each of the issues," Harjo stated.  Harjo also gave a brief update on issues of law enforcement.
To listen to comments made by SCIA representatives click here.
National Indian Gaming Commission (NIGC):
National Indian Gaming Commissioner Jonodev Osceola Chaudhuri set the tone of the NIGC's report to the USET Board of Directors at the 2014 Impact Week Meeting in Washington, DC by beginning with, "Economic development across the board is important to me as a Native person.  It is where the rubber meets the road as far as providing us tools as Native peoples and that is frankly to preserve our cultures, preserve our vision of the future, to preserve our self-determination.  So economic development, and by extension 'gaming' as an industry, is only a means to an end.  The real end is protecting who we are as Native people."  Commissioner Chaudhuri noted the four areas of concentration in the next few years based on the NIGC strategic plan and the four upcoming consultation meetings during 2014.
Click here to listen to National Indian Gaming Commissioner Jonodev Osceola Chaudhuri's comments to USET.
USET Students Attend Close Up In
dian Summit Week in Washington, DC
The USET Students attending the Close Up Foundation's Indian Summit Week in Washington, in conjunction with the 2014 Impact Week events, came to a close with breakfast with Tribal leaders and presenting a resolution for adoption by the USET Board of Directors. Close Up students drafted a resolution requesting USET create a work group or committee within the Culture and Heritage Committee devised of fluent Tribal language speakers and educators so they may network and find solutions to challenges teaching Indian languages. The resolution also requests USET seek grant funding to help preserve and promote Tribal language and education. The USET Board of Directors, which is comprised of elected Chiefs, Chairpersons, Representatives, Trustees, and Presidents from the 26 USET member Tribes, adopted the resolution submitted by the students.  During the week students attended Congressional visits with Tribal leadership, studied the functions of Tribal and federal government, and attended cultural functions.