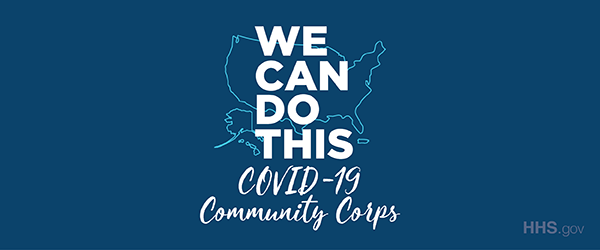 COVID-19 Community Corps – April 30, 2021
Dear Community Corps Members:
It was great to be with many of you at this week's conversation with Dr. Kizzy Corbett, one of the scientists responsible for developing the mRNA vaccine, now made by Moderna. 

Since then, we have continued our march toward protecting America from COVID-19, as we vaccinate millions of people each day. Nearly half of the country has now received at least one dose of vaccine. Children are hugging grandparents, aunties are playing with nieces and nephews, and friends are re-uniting at the dinner table. Hope and possibility are growing in all corners of our country.

Your work in increasing vaccine confidence is not only saving lives, but also contributing to making community life more joyful. This week, the CDC released new guidance on what fully vaccinated people could do without a mask, including eating at outdoor restaurants and having picnics with friends, regardless of their vaccination status. This represents progress. And one more reason to get vaccinated. 

Here is our challenge: we have millions more friends, family members, and neighbors who are still unvaccinated. That's why your role as trusted messengers have never been more critical. For those community members still wondering if they should get vaccinated, the conversation they have with you could be the deciding factor. By acknowledging concerns and responding with information and empathy, you can help save lives and empower people to reclaim their health. 
We have heard from Community Corps members that they want additional resources to help with community education. You can find our entire set of toolkits and resources here. 
Here's what's included in the new offerings:
Ending this pandemic is within our reach. It will take each of us stepping up to protect our families, friends, and communities by helping people get vaccinated. But make no mistake, we can do this together.

Stay safe, be well, and take care of each other.

Dr. Vivek Murthy
U.S. Surgeon General