Many concerned Tribal natural resource staff, traditional harvesters, and basket makers submitted comments in opposition of the lifting of the federal domestic emerald ash borer (EAB) quarantine regulations. On December 14, 2020, USDA APHIS lifted that quarantine. The timing is less than ideal for many Tribal Nations in the Northeast continuing to combat this forest pest that is devastating a cultural resource.
In the photo to the right, Vice Chief of the Aroostook Band of Micmacs, Richard Silliboy, peels away the outer cambium layer of a white ash tree searching for evidence indicating the presence of EAB.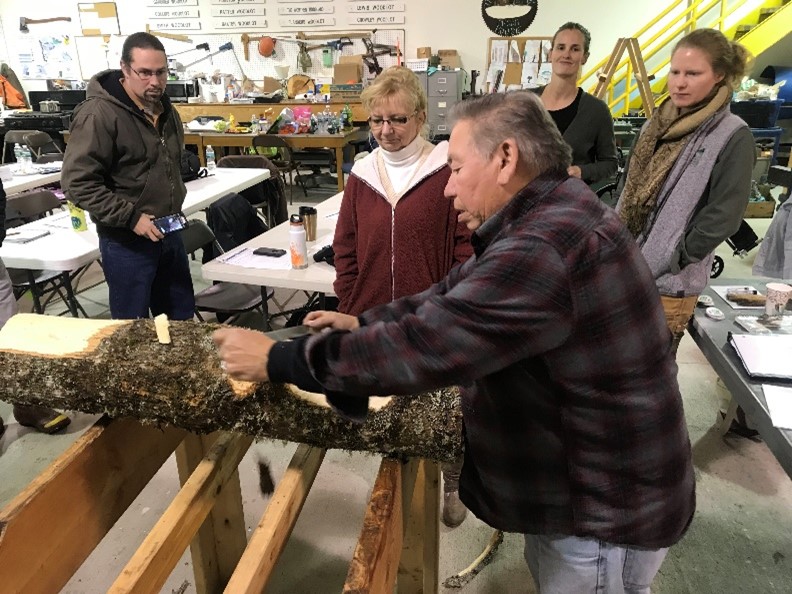 "WASHINGTON, December 14, 2020 —The U.S. Department of Agriculture's Animal and Plant Health Inspection Service (APHIS) is changing its approach to fight the emerald ash borer
(EAB) infestation that has spread through much of the United States. The Agency is publishing a final rule that removes the federal domestic EAB quarantine regulations that have proved ineffective and will redirect resources to more promising methods...
The final rule and the response to the comments we received will publish in the Federal Register on December 15, 2020 and be rule will be effective on January 14, 2021. Documents may be viewed online at https://www.regulations.gov/docket?D=APHIS-2017-0056 upon publication.
APHIS is working with the National Plant Board on effective strategies to manage firewood movement, which is one of the ways the emerald ash borer spreads. APHIS' goal is still to maintain ash in the North American landscape. We look forward to continued collaboration with our partners on this effort. Questions about the regulatory change for emerald ash borer can be directed to National Policy Manager Herb Bolton at 301-851-3594 or Herbert.Bolton@usda.gov."
If you have any comments or questions about this news, feel free to contact Tyler Everett, USET's Forest Adaptation Technical Assistant.