The United South and Eastern Tribes Climate Change Program held the region's first-ever Virtual Tribal Climate Resilience Camp July 12-16. Hosted by the Penobscot Indian Nation, the event included nine Tribal Nation teams who went through the weeklong camp participating in discussions and activities centered around climate resilience in their home communities. Throughout the week, each Tribal Nation team took what they learned or discussed and put it toward a final deliverable for the camp: a strategy to engage their communities, Tribal Nation governments, Tribal departments, and outside agencies and partners on climate change adaptation planning.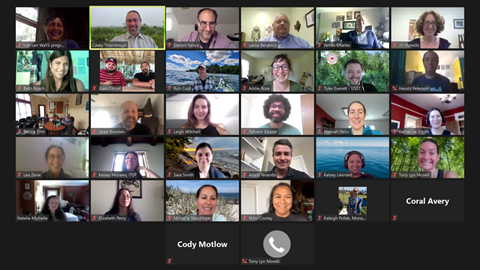 Inspirational words were shared from speakers throughout the week, including Penobscot Nation Chief Kirk Francis, Dr. Daniel Wildcat (Haskell Indian Nations University), Dr. Kyle Whyte (University of Michigan), James Francis (Penobscot Indian Nation), and Dr. Darren Ranco (University of Maine). Three virtual field trips were used to share the climate change concerns of the hosting Tribal Nation. Field trips were led by Tribal scholars Dr. Bonnie Newsome (Penobscot Indian Nation), Natalie Dana-Lolar (Passamaquoddy-Penobscot), Suzanne Greenlaw (Houlton Band of Maliseet Indians), and John Banks (Penobscot Indian Nation). Wabanaki traditional stories were shared in a "Fireside Chat" event with John Bear Mitchell (Penobscot Indian Nation).
Additional presentations were delivered by the camp's supporters, the Northeast and Southeast Climate Adaptation Science Centers, the Institute for Tribal Environmental Professionals (ITEP), and the Tribal Adaptation Menu Team. The camp culminated on Friday, July 16 with each Tribal Nation team sharing their final deliverable in the form of a presentation to all of the camp's speakers and participants. USET and the Climate Change Program staff would like to thank everyone who participated in and made this camp possible. It was a truly inspiring event for all that attended.