USET member Tribal Nations now have access to additional research funding, student training, and science engagement opportunities through USET's membership in the Southeast Climate Adaptation Science Center (SECASC) Consortium. The SE CASC is one of a national network of nine regional Climate Adaptation Science Centers (CASCs) managed by the Department of the Interior – U.S. Geological Survey. There are five new members of the Southeast Consortium: USET, University of Arkansas at Monticello, Savannah State University, University of the Virgin Islands, and University of Puerto Rico at Rio Piedras. Across the CASC network, eight other Tribal Nations, universities, and organizations are in regional consortia.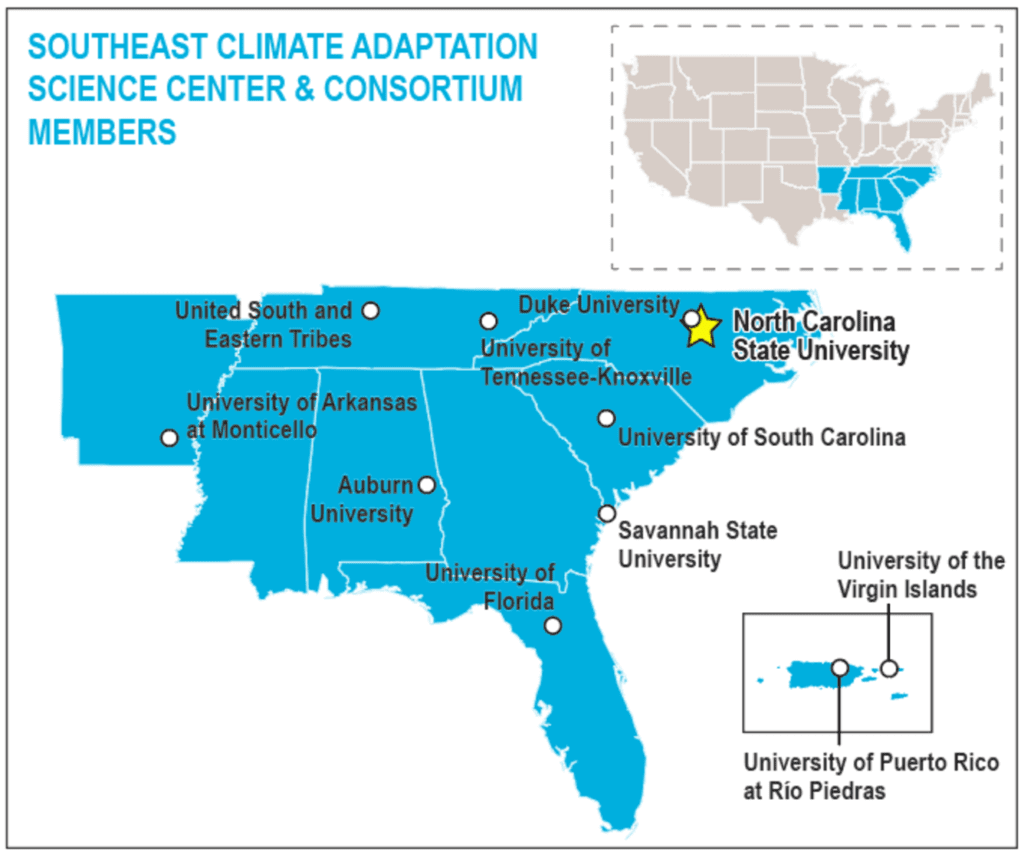 These partnerships are expansions on existing relationships between Tribal Nations/universities/organizations and the CASCs supported by the Tribal Climate Resilience Liaisons Program, which USET has been a part of since 2017. In fact, two members of the USET Climate Resilience team recently gave the August 2023 SECASC Science Seminar, titled Tribal Climate Adaptation Priorities and Opportunities.
The CASC network is a partnership-driven program that teams scientists with natural and cultural resource managers and local communities to help fish, wildlife, water, land, and people adapt to a changing climate. A Consortium Partner serves on a CASC leadership team to address regional impacts of Climate Change on natural and cultural resources and to ensure the delivery of scientific information that addresses the Climate Change adaptation priorities of federal, Tribal, state agencies, and other partners.
CASC Consortium partners and their programs and staff (e.g., USET and USET member Tribal Nations) are also eligible to compete directly for USGS funding to support climate change adaptation research projects that address local and regional priorities. Funding competitions are held annually, and the USET Climate Resilience Program will provide updates on these funding opportunities on our webpage. Tribal Nation citizens who are enrolled as graduate students at one of the consortium institutions can apply to fellows programs to receive funding and training in climate adaptation science.
Learn more about the CASCs and reach out to Steph Courtney with additional questions at scourtney@usetinc.org.