2023 USET-BIA-IHS Partnership Meeting and USET Semi-Annual Board of Directors Meeting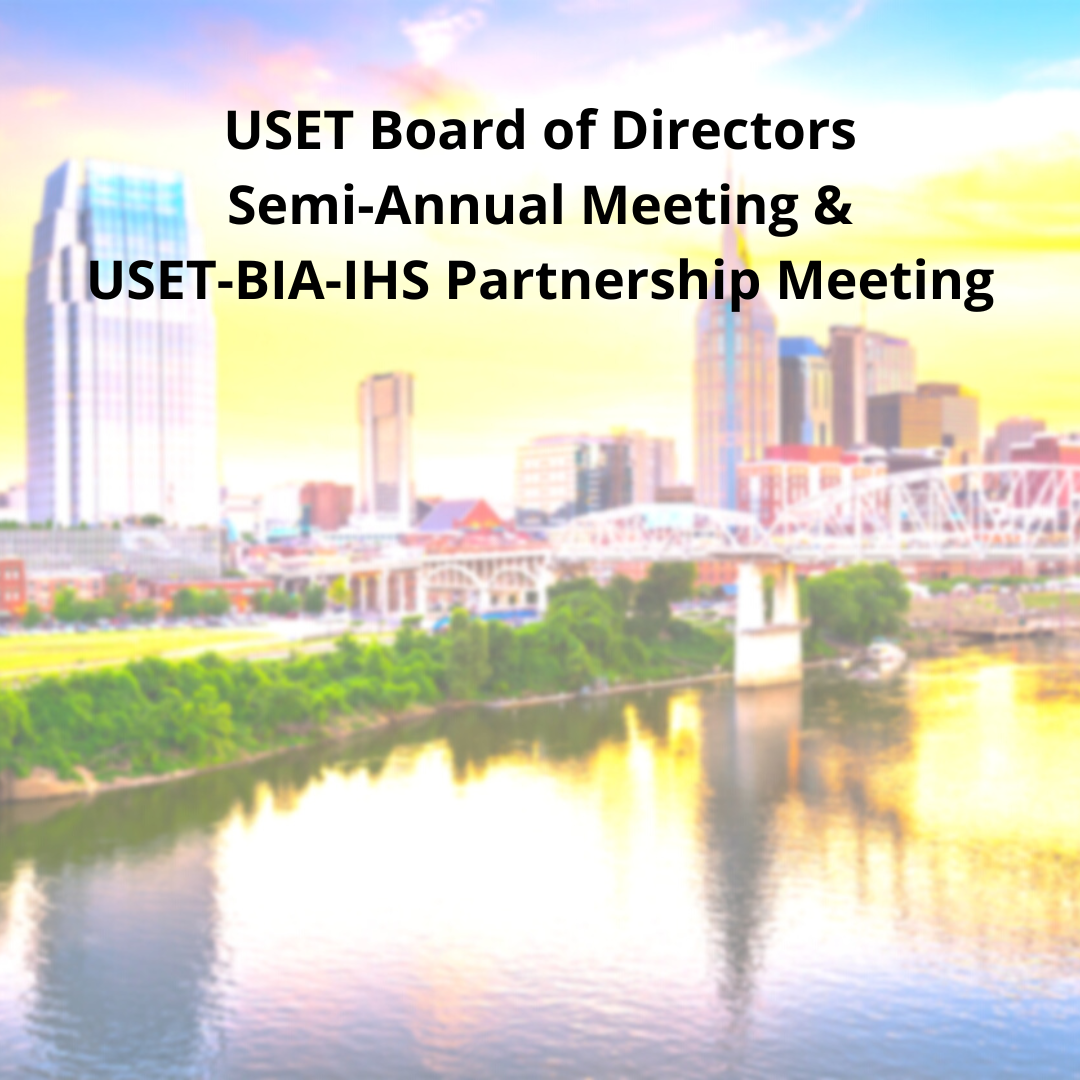 2023
USET-BIA-IHS Partnership Meeting
&

USET Semi-Annual Board of Directors Meeting
June 13-15, 2023
Sheraton Grand Nashville Downtown Hotel
Nashville, TN
This year's meeting has been restructured to condense the Board of Directors Meeting from the usual three full days to only Thursday afternoon, leaving the rest of the week open for Tribal Leaders, Committee Members and other Tribal staff to jointly participate in the various programmatic-focused sessions. This year's meeting will center on Post-Covid Healing and Infrastructure Development.
---
Hotel Information
Sheraton Grand Nashville Downtown Hotel
623 Union Street
Nashville, Tennessee 37219
Call (615) 259-2000 or click here to make your reservation.
Group rate is $289/night. Make your reservation by May 22 at 5:00 pm Central to receive this discounted rate. We cannot hold rooms beyond this date.
Parking pricing and information:
Self parking at $50.00 per night
Valet parking at $60.00 per night
---
Registration
Registration is open. We encourage ALL attendees (Board members, Committee members, Tribal Staff and presenters) to register in advance.
---
Review the agenda.
---
Pre-Meeting Sessions (Monday, June 12)
Youth Mental Health First Aid for Tribal Communities & Indigenous Peoples at 9:00 am – 4:00 pm Central.
Why Mental Health First Aid? Confidently recognize and respond to a Native American adolescent ages 12-18 who may be experiencing a mental health or substance use challenge or crisis. Adolescence is a time of critical change and development, and a time when mental health challenges often emerge. Provide a strong cultural connection and early intervention with a culturally appropriate course designed to acknowledge and honor Tribal Communities' and Native Americans' practices. To learn more and register for the training, visit the event page.  Space is limited.
Resource and Patient Management System (RPMS) Training for the Special Diabetes Program for Indians (SDPI) grantees on June 12-13, 2023 8:30 AM – 4:00 PM Central and June 14, 2023 8:30 AM – 12:30 PM Central. Grantees will receive in-person instruction in the Diabetes Management System package for RPMS (BDM) in both the "roll and scroll" interface and the Visual DMS graphical user interface (GUI). Topics include building and maintaining diabetes and pre-diabetes registers, editing patient information, and running register and quality assurance reports. Additional topics include using QMAN for custom searches to meet needs that commonly arise for diabetes programs, creating panels of patients in iCare, and performing the annual Indian Health Service (IHS) Diabetes Audit with WebAudit. To learn more and register for the training, visit the event page to learn more. Space is limited.
USET/USET SPF FY 2024-2028 Long-Term Strategic Planning. Building upon the robust work completed and/or initiated during our previous long-term strategic plan, USET/USET SPF has embarked on an inclusive process in setting our goals and priority focus areas for the next five years. Through the leadership and direction of our Executive Officer Committee, USET Staff and various committee members, USET/USET SPF has established a task force to assist us in finalizing our next strategic plan and roadmap. If you are a member of the Task Force and plan to attend, please register for the 2023 USET-BIA-IHS Partnership Meeting and USET Semi-Annual Board of Directors Meeting.
---
Welcome Reception
On Tuesday, June 13 at 6:00 pm – 8:00 pm our Welcome Reception will take place at the Sheraton Grand Nashville Downtown Hotel in Skye Lounge. All USET/USET SPF partners, colleagues, and meeting participants are encouraged to attend. Registration for the Semi-Annual Meeting is not required to attend the reception. Entertainment is being provided by Slade Adams.
---
Resolutions
Resolutions will not be considered during this meeting.
---
Committees
Committees will not be meeting separately but are welcome to participate and collaborate throughout the week. This meeting will have sessions that focus on multiple programmatic issues that committee members are encouraged to attend.
---
Virtual Platform
Due to the significant cost associated with offering a virtual engagement platform, the availability of a virtual engagement platform is limited to the Board of Directors Meeting on Thursday afternoon. If you are a virtual attendee, log in to the
Attendee Website
to view the agenda, add sessions to your personal schedule, network with other attendees and attend virtual sessions.
When it's time for the session to begin, a "Join Session" button will appear. You must register for the meeting to have access to the Attendee Website.
Resources:
---
Meeting App
We have created a new app – USET/USET SPF Events. Download the app from your app store and search for USET Semi-Annual Meeting. Download the event to the app. You can use it to stay up to date with the latest news and announcements, create your personal schedule, view all agendas, and connect with attendees.
---
What to Do in Nashville
Creativity is the heart and soul of Nashville, the "Music City," and there's never a shortage of inspiring things to do. From music, culture, and the arts to food, sports, and shopping, there is an "only in Nashville" experience waiting for you. Learn about things to do in Nashville.
---
COVID Protocols
The USET Tribal Epidemiology Center (USET TEC) is a recognized public health authority supported by the Tribal Nations within the USET region. Throughout the course of the COVID pandemic, we have relied on their expertise to guide us to ensure for the overall safety, health, and wellness for our members, staff, and event attendees. As the impacts of COVID have evolved, we have continued to assess our protocols to ensure that they remain reflective of the current status of the pandemic.
Currently (as of 04/17/2023, subject to change), USET is no longer requiring proof of vaccination to attend USET-sponsored meetings. A supply of masks and tests will be made available for attendees to use at their discretion.