Introduction to Heavy Equipment Training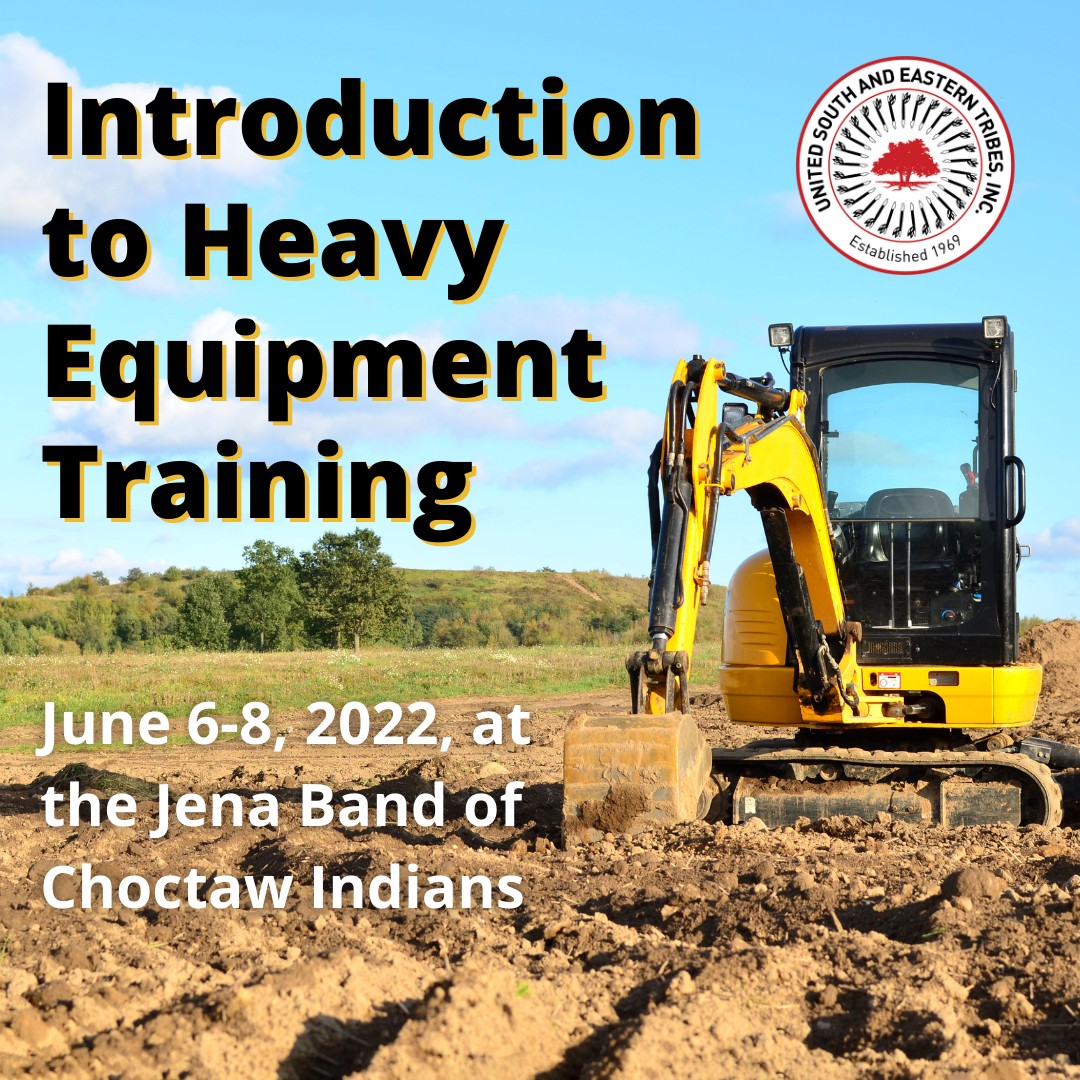 Introduction to Heavy Equipment Training
presented by USET Office of Environmental Resource Management and Texas A&M Engineering Extension Services (TEEX)
The USET Introduction to Heavy Equipment Training will lead Tribal Nation utility staff in hands-on instruction for safe, qualified and productive use heavy machinery in the workplace. This Heavy Equipment Training is sponsored by TEEX and will provide opportunities for Mini-Excavator training.
When: The training will take place over three days (June 6-8, 2022):
Day 1 (June 6) – The first day will be in-class training.
Days 2 & 3 (June 7-8): The next two days will be for hands-on field experience using the heavy equipment to move earth
Where: Jena Band of Choctaw Indians, Trout, Louisiana
Who should attend: USET Member Tribal Nation utility workers
Participants will:
learn about safe, productive use of heavy equipment in the workspace
receive effective, instructor-lead training
be in a class atmosphere with other Tribal Nation utility workers
This is a free training for USET member Tribal Nation utilities. Travel will be required. A stipend will be provided to cover expenses. Stipends will be made directly to Tribal Nation, not the attendee.
Proof of Covid-19 vaccination will be required.
Registration information coming soon.
For questions, contact Michael Purvis, USET OERM Senior Technical Assistance Specialist, at mpurvis@usetinc.org.
USET is committed to the overall safety and well-being of all of its meeting attendees. Recognizing the ongoing evolving realities of the COVID-19 pandemic, any in-person meeting/event plans will be executed in accordance with recommended public health protocols. As a reminder, the USET Tribal Epidemiology Center (TEC), a recognized public health authority, will ultimately provide USET with guidance and recommendations about any in-person USET meeting/event plans to ensure that our actions are in the best interests of the USET/USET SPF organization, its membership, and meeting attendees. Based on the USET TEC's decision, it may be required to shift the event from in-person/hybrid to fully virtual and should this action be taken, proper notice will be provided.