USET 2022 Tribal Utility Finance Forum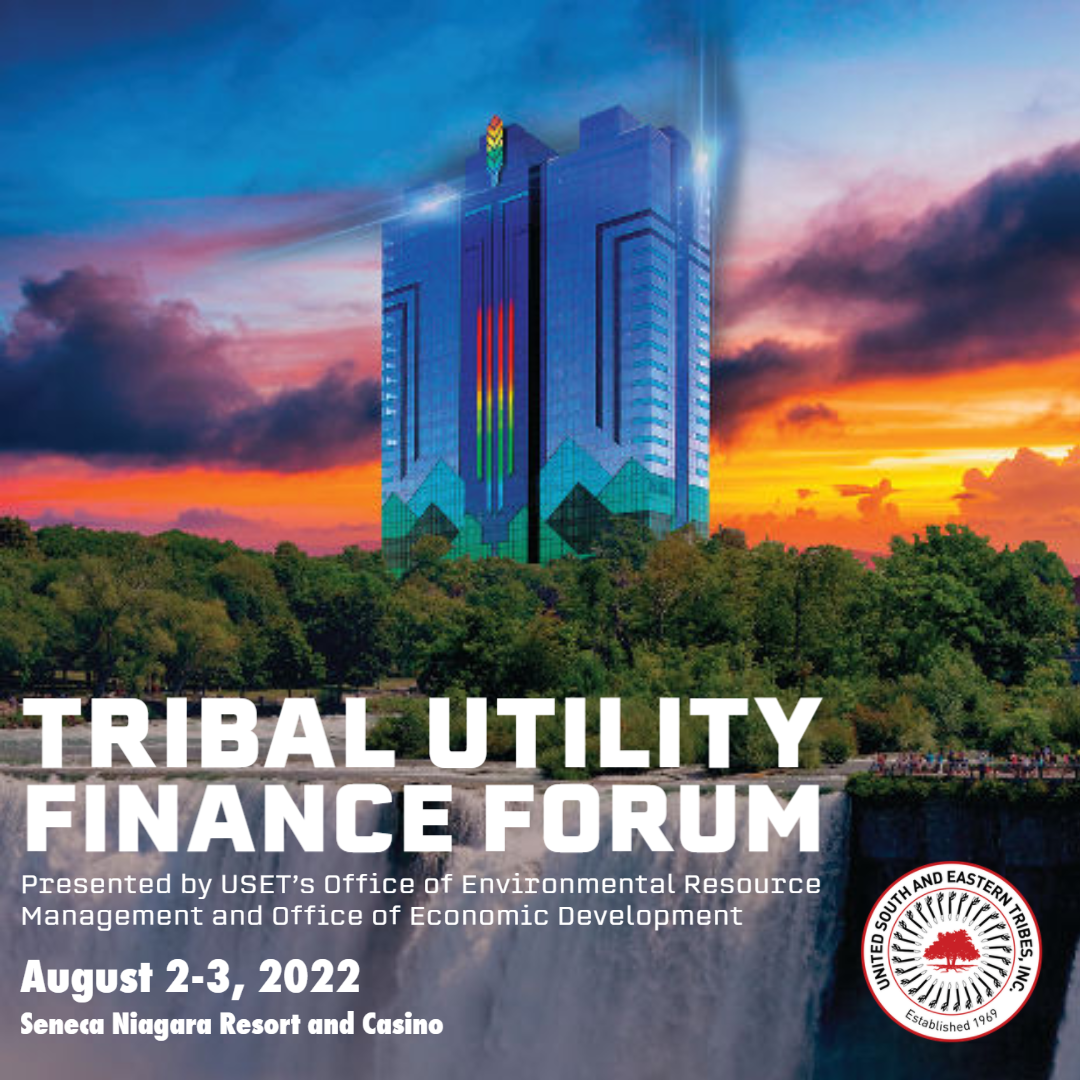 USET's Offices of Environmental Resource Management and Economic Development present the
USET 2022 Tribal Utility Finance Forum
August 2-3, 2022
Seneca Niagara Resort and Casino
USET hosted the first Tribal Utility Finance Forum (TUFF) in 2017 to begin the conversation of how to strategically align Tribal utility systems with economic and community development opportunities in Tribal communities.  This event will gather Tribal Leadership, Utility Directors and Assistant Directors, Finance Directors, Engineering Managers, in-house council, and others to explore how Tribal utility needs assessments for capital and operations and maintenance (O&M) are used to develop sources of financing for infrastructure development to support Tribal Nation economic development plans.
When: August 2-3, 2022
Where:
Seneca Niagara Resort and Casino
310 4th Street
Niagara Falls, NY 14303
Who should attend: Tribal Utility Staff that work for USET member Tribal Nations
Participants will learn about:
Capitalization of Tribal utility systems
Infrastructure investment
Microgrids projects
and much more!
Travel Stipends: USET member Tribal Nation staff are eligible for a travel stipend by a first come, first served basis.
Registration: Register today!
---
Virtual Options: This is a hybrid event. Virtual participants: After you register, log in to the Attendee Website to view agendas, add sessions to your personal schedule, network with other attendees and attend virtual sessions. When it's time for the session to begin, a "Join Session" button will appear. Please refer to the following resources if needed:
---
Hotel Information: Book your hotel room at Seneca Niagara Resort and Casino by visiting www.senecaniagaracasino.com or calling 1 (877) 873-6322.
Other Nearby Hotels:
---
COVID Protocols:
Based on USET's COVID-19 Meeting Protocols for USET-sponsored Events, in-person attendees are required to confirm that they are *up-to-date on their COVID-19 vaccines.
*"Up-to-date" means that you have completed your primary series AND received all boosters that you are currently eligible for. If you've been vaccinated but it's not yet time for your booster, you are up to date. However, if you are overdue for your booster, you are no longer up to date.
USET is committed to the overall safety and well-being of all of its meeting attendees. Recognizing the ongoing evolving realities of the COVID-19 pandemic, any in-person meeting/event plans will be executed in accordance with recommended public health protocols. As a reminder, the USET Tribal Epidemiology Center (TEC), a recognized public health authority, will ultimately provide USET with guidance and recommendations about any in-person USET meeting/event plans to ensure that our actions are in the best interests of the USET/USET SPF organization, its membership, and meeting attendees. Based on the USET TEC's decision, it may be required to shift the event from in-person/hybrid to fully virtual and should this action be taken, proper notice will be provided.
---
For questions, please contact Veronica Menta, USET OERM Financial Analyst, at vmenta@usetinc.org.
This meeting is sponsored by Baker Tilly and Qware.