USET/USET SPF 2023 Impact Week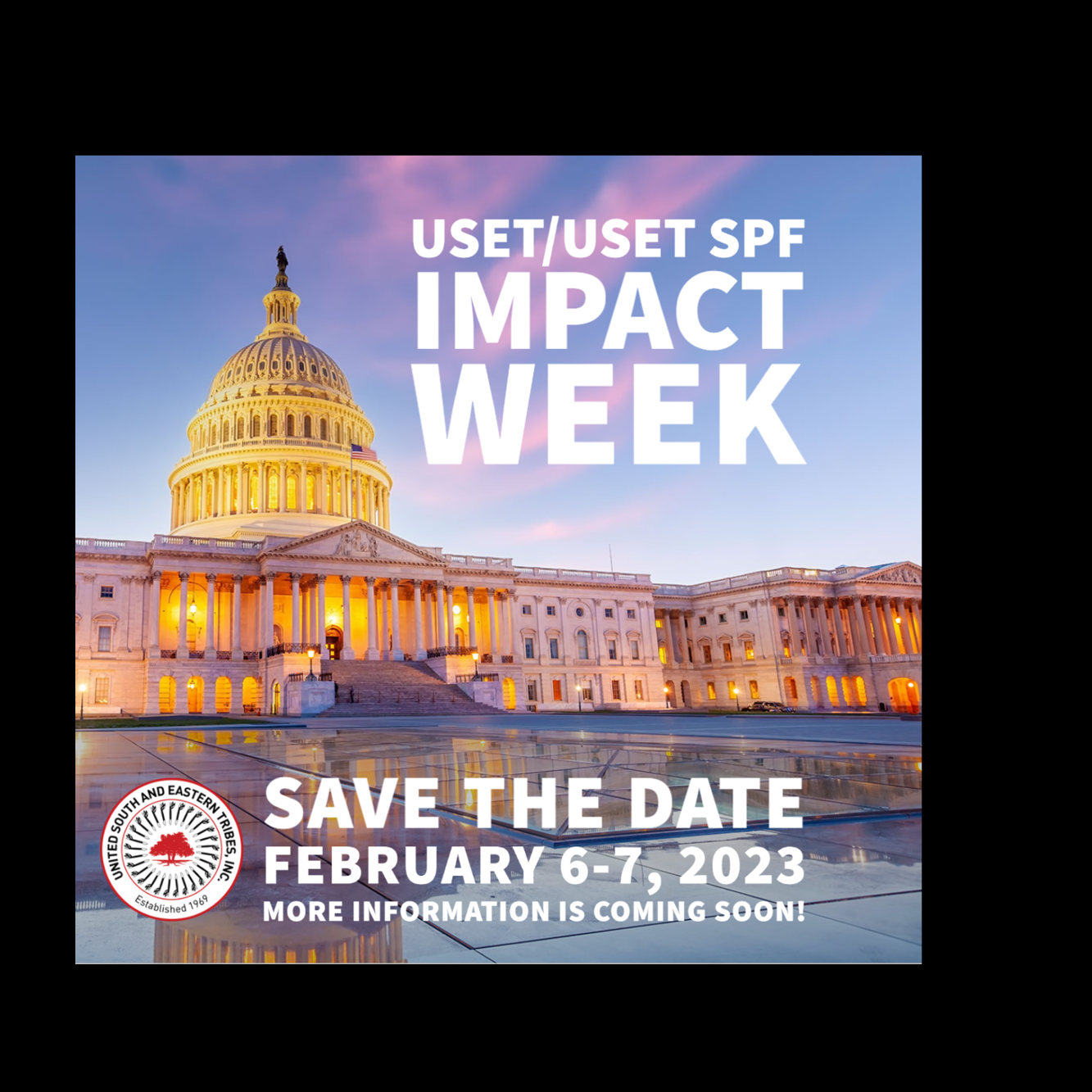 USET/USET SPF 2023 Impact Week
February 6-7, 2023
Crystal Gateway Marriott
Arlington, VA
Dissimilar to many other Tribal/Native organizational meetings and conferences held across Indian Country, the USET/USET SPF Impact Week, Semi-Annual, and Annual Meetings are not open for general public registration due to the nature of these being formal meetings of our Board of Directors. As such, anyone who is not representing a member Tribal Nation would need an invitation from the organization and/or a member Tribal Nation in order to attend and participate.
Hotel Information
Crystal Gateway Marriott
1700 Richmond Highway
Arlington, Virginia 22202
Group Rate: $188.00 plus state and local taxes (currently 14.25%) | The Group rate has been extended to January 19, 2023.
Book your group rate 
Here is a list of restaurants in the Crystal City area. The Hotel restaurant will not be open for lunch.
---
Registration
On-site registration opens at 7:00 AM on Monday and Tuesday.
ALL attendees (including USET/USET SPF Board Members and presenters) are strongly encouraged to pre-register for the meeting.
The early bird registration fee is $300.00 for USET committee members, general attendees, and artisans.
The registration fee increases to $350.00 on Monday, January 16.
Due to the significant cost associated with offering a virtual engagement platform, the availability of a virtual engagement platform is limited to the Board of Directors Meeting. Committees will not have a virtual option.
---
Draft Agendas
All Committees are expected to meet during Impact Week.
Agendas:
---
Special Events
Sunday, February 5 at 4:00 pm – 6:00 pm Eastern | Housing and Urban Development Consultation Section 184 |Crystal Gateway Marriott in Salon I
Proposed Rule Text
February 6 at 12:00 pm – 1:00 pm Eastern | Native Farm Bill Luncheon | Crystal City Gateway Marriott in Salon J | Registration is required for all attendees (in-person and virtual). USET/USET SPF 2023 Impact Week attendees must register by January 20, 2023, to receive lunch. Registration for virtual attendees will be open until the event starts. Lunch will be free for registered in-person attendees. Visit the event page for more information.
February 6 at 6:00 pm – 8:00 pm Eastern | Welcome Reception | Crystal City Gateway Marriott in Salon III
---
Resolutions
Please submit resolutions to Liz Malerba at lmalerba@usetinc.org by January 20, 2023. Late resolutions may not be considered. Please see the resolutions policy for additional details.
Resources:
---
Virtual Platform
If you are a virtual attendee, log in to the
Attendee Website
to view agendas, add sessions to your personal schedule, network with other attendees and attend virtual sessions. 
When it's time for the session to begin, a "Join Session" button will appear. You must register for the meeting to have access to the Attendee Website.
Due to the significant cost associated with offering a virtual engagement platform, the availability of virtual platform is limited to the Board of Directors Meeting. Committees will not have a virtual option.
---
Meeting App
We have created a new app – USET/USET SPF Events. Download the app from your app store and search for USET/USET SPF Impact Week. Download the event to the app. You can use it to stay up to date with the latest news and announcements, create your personal schedule, view all agendas, and connect with attendees.
---
Vendors and Artisans
Vendors can request a booth at $850/per booth. Vendors must register for the meeting no later than January 20 to request their booth.
Artisans can reserve a table at $300/per table. Artisans need to register for the meeting to reserve their table.
---
COVID Protocols (as of 09/15/2022, subject to change)
The USET Tribal Epidemiology Center (USET TEC) is a recognized public health authority supported by the Tribal Nations within the USET region. Throughout the course of the COVID pandemic, we have relied on their expertise to guide us to ensure for the overall safety, health, and wellness for our members, staff, and event attendees. As the impacts of COVID have evolved, we have continued to assess our protocols to ensure that they remain reflective of the current status of the pandemic. Today, we are announcing the following updates to the USET sponsored meeting COVID protocols:
USET/USET SPF Sponsored Meetings
Up to date* vaccinated attendees will not be required to mask and can fully engage without restrictions. Vaccinated attendees will provide proof of up-to-date status via self-attestation. Daily testing is strongly encouraged.
Unvaccinated attendees, or attendees not up to date, will be allowed to attend, but will be required to:
Wear a KN-95 or N-95 mask, or
Test negative within 24 hours of the event AND also test negative daily, if the meeting is for extended days
As part of our public heath authority responsibilities, we will continue to provide education, offer PPE, rapid tests, and continue to strongly encourage best practices. Additionally, for USET/USET SPF meetings hosted by member Tribal Nations, we will continue to comply with the COVID protocols that each set for their respective nation. While these protocols have changed to better reflect the current state of the pandemic, updated booster shots, and availability of treatments options, the USET TEC strongly recommends ongoing caution due to the health disparities that exist across Indian Country.
*Please note that up-to-date means that the primary series has been received and any current boosters (if eligible and/or available) have been administered.